House Sparrows tweak auditory system seasonally
11-01-2013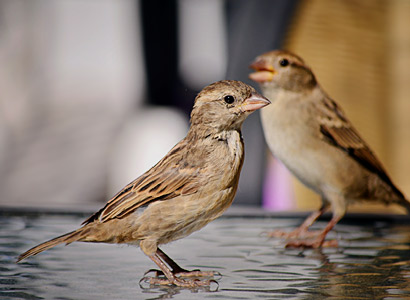 In Spring, songbirds fill the air with their annual concert, and a recent study shows that at the same time, some female songbirds are actually changing how their auditory system processes the tunes. Purdue Biology's Professor Jeffrey Lucas, Ph.D., and then-doctoral student Megan Gall published a paper earlier this year in the Proceedings of the Royal Society B that showed season- and sex-specific changes in the sound processing of House Sparrows (Passer domesticus).
In nature, as with most everything, there are trade-offs. In this case, there is an auditory trade-off between the ability to resolve either sounds of different frequencies or rapid changes in sound. This study showed that in Spring, female House Sparrows increase their ability to resolve frequencies in comparison to males and autumn females, but as a result, they lose some of the capacity to detect quick sound changes. In Fall, both males and females are better at resolving rapid changes, at the expense of frequency resolution.
For female House Sparrows, at least, distinguishing between frequencies in a male's song appears to provide such valuable information that they tweak their auditory system to acquire it despite the trade-off. Prof. Lucas' team believes this study is the first to demonstrate this adjustment. Because it was shown only in breeding season females, this plasticity may be adaptive for mate choice. The mechanism of the changes has yet to be fully determined, but some possibilities relate to characteristics of the hair cells that detect sound vibrations. Because hormone levels vary seasonally, auditory processing changes may be impacted by the levels of circulating hormones, a promising topic for future investigation.
[audio wav="http://www.bio.purdue.edu/bionews/wp-content/uploads/2013/10/house-sparrow.wav"][/audio]
Writer: Karen Wiggins, 49-44749, wiggins@purdue.edu
Photo: www.shutterstock.com