High school students selected to participate in 11th USA Biology Olympiad finals at Purdue
06-03-2013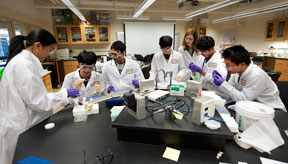 The top 20 high school students have been selected by the Center for Excellence in Education (CEE) to participate in the 11th Annual USA Biology Olympiad (USABO) National Finals from June 2-14 at Purdue University.
Finalists were selected based on their scores from the USABO Open and Semifinal Exams. Nearly 10,500 students registered nationally for the USABO. This marks the fourth consecutive year that Purdue has hosted the finals.
"CEE is proud to sponsor the USABO with Purdue University and to train high school scholars in practical and theoretical biology," said Joann DiGennaro, president of CEE. "The Center is very proud of the United States students' continued success at the IBO."
The USABO national finalists will gather at Purdue to compete for U.S. medals. The top four medalists will participate July 14-21 at the International Biology Olympiad (IBO) in Bern, Switzerland. The IBO is a worldwide competition involving students from 60 countries.
Team USA has earned gold medals at the last 10 International Biology Olympiad competitions, including 2012 after their USABO qualifying activities and exams at Purdue.
"These students are going to change the world, and it's exciting Purdue could play a role in positioning these bright young high school students for success at the national competition activities here on campus and the upcoming international competition in Switzerland," said campus host Clark Gedney, director of the BioMedia Center for Instructional Design at Purdue.
During the two weeks at Purdue, finalists will participate in intensive theoretical and practical tutorials. The students will study with leading U.S. biologists who are experts in the fields of cellular biology and microbiology; plant anatomy and physiology; animal anatomy and physiology; ethology, genetics and evolution; ecology, ethology and biosystematics.
At the conclusion of the two weeks, the students take two exams - a practical and a theoretical. The four highest scoring students are named Team USA 2013 to represent the U.S. at the IBO.
The 2013 USA Biology Olympiad national finalists coming to Purdue in June are:
California: Kevin Bao, Cambridge Educational Institute, Chino Hills; Nikhil Buduma, Bellarmine College Preparatory, San Jose; Bingfei Cao, Westview High School, San Diego; Bryce Hwang, Foothill High School, Pleasanton; Raghu Dhara, Mission San Jose High School, Fremont; Katie Dunn, Santa Monica High School, Santa Monica; Siddharth Trehan, Mira Loma High School, Sacramento; Karen Wong, Franklin High School, Elk Grove; and Catherine Wu, Canyon Crest, San Diego.

Delaware: Lei Ding, The Charter School of Wilmington, Wilmington.

Michigan: Sidharth Chand, Detroit Country Day School, Beverly Hills.

New Jersey: Michael Gao, Freehold High School, Freehold; Charles Gleason, Bergen County Academies, Hackensack; and Raymond Wang, Holmdel High School, Holmdel.

New Mexico: Eric Li, Albuquerque Academy, Albuquerque.

Oregon: Abhijit Mudigonda, Westview High School, Portland.

Texas: Karen Li, Cypress Falls High School, Houston.

West Virginia: Christopher Radcliff, Morgantown High School, Morgantown.

Virginia: Janice Ong, Thomas Jefferson High School for Science & Technology, Alexandria; and William Long, Thomas Jefferson High School for Science & Technology, Alexandria.
At the 2012 IBO in Singapore, the U.S. gold medalists were: Nikhil Buduma of Bellarmine College Preparatory in San Jose, Calif.; Lei Ding of The Charter School of Wilmington in Wilmington, Del.; Jing Liu of Mission San Jose High School in Fremont, Calif.; and Kevin Ma of East Brunswick High School in East Brunswick, N.J.
Team members Lei Ding and Jing Liu placed second and third in the world, respectively.
Kathy Frame, director of the USABO for the CEE, and Gedney accompanied the 2012 scholars. All were flown to Singapore courtesy of Korean Air, the official airline of the USA Biology Olympiad.
Frame also was elected by her fellow jurors to serve as one of six members of the subgroup of Switzerland's host committee for the 2013 IBO in Bern. The subgroup worked in cooperation with Switzerland to review the practical and theoretical exams that have been developed, focusing on the quality of the questions in terms of scientific correctness and conceptual formulation.
About the Center for Excellence in Education
The Center for Excellence in Education, which was founded in 1983 by the late Admiral H.G. Rickover and DiGennaro, works to nurture high school and university scholars to careers of excellence and leadership in science, technology, engineering and mathematics, and to encourage collaboration between and among leaders in the global community. CEE sponsors the Research Science Institute, USA Biology Olympiad, and the Teacher Enrichment Program.
Media Contacts: Maureen Palmer, 703-448-9062 ext. 222, mpalmer@cee.org
Phillip Fiorini, 765-496-3133, pfiorini@purdue.edu
Sources: Joann P. DiGennaro, 703-448-9062, joann@cee.org
Kathy Frame, 571-228-0098, kframe@cee.org
Clark Gedney, 765-494-0157, cgedney@purdue.edu