College of Science impresses at Research Symposium
03-29-2013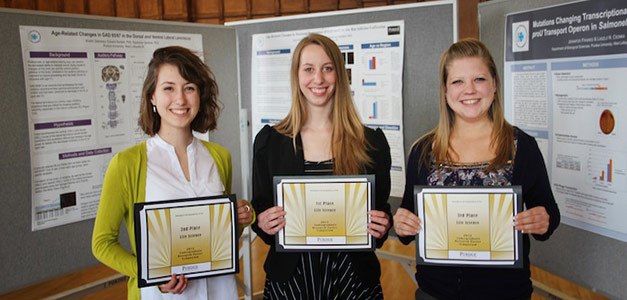 In an event it originated more than a decade ago, the College of Science fared well at the 2013 Undergraduate Research Poster Symposium March 26.
With more than 140 large posters on display in the Purdue Memorial Union ballrooms, students from the College of Science as well as undergrads from Engineering, Liberal Arts, Agriculture and Technology interacted with judges throughout the day. The young scholars were critiqued on their research and how they explained their findings. The posters were tacked on large boards and each student was eager to discuss their research.
Dennis Minchella, the College of Science's Associate Dean for Undergraduate Education, was impressed overall with the 31 submissions from Science, and as a biologist, he was especially thrilled to see three Biological Sciences students sweep the event's Life Science awards: Kristin Zabrecky placed first for her work in "Age-Related Changes in GAD 65/67 in the Dorsal and Ventral Lateral Lemniscus" while Anna McCulllough won second and Jennifer Franks got third for their projects on "Age-Related Changes in Neuronal Expression of GAD 65/67 in the Rat Inferior Colliculus" and "Mutations Changing Transcriptional Control of the proU Transport Operon in Salmonella typhimurium."
Winners received up to $200 with their award certificates.
Other College of Science winners included:
Samuel Childs, Honors College Physical Science Award for "An Assessment of Climate Change Impacts on the USA Corn Belt Region"
Chris Cole and Daniel Roberts, Honors College Mathematical Science Award for "A Bandwidth-Efficient Reliable Broadcast Algorithm"
Tyler Heckstall, Brandon Owen and Victoria Tyler, Physical Science Second Place for "Public Awareness of Severe Weather Alerts"
Samuel Egle, Mathematics/Computational Science Award for "Computational Studies of Solvation Shell Influence on Heme Ruffling in Nitrophorin 4"
Britney Harris, College of Science Dean's Choice Award for "The Therapeutic Effects of 15-Methylene-Eburnamonine on Cancer Stem Cells in Breast to Brain Tumors"
Eric Boone, College of Science Students' Choice Award for "Aircraft-based Measurements of Atmospheric Aerosol Size Distributions and Transport near Barrow, Alaska in Spring 2012"
This article was originally published on Purdue's College of Science webpage.