Ross Biological Reserve: A living laboratory
07-25-2012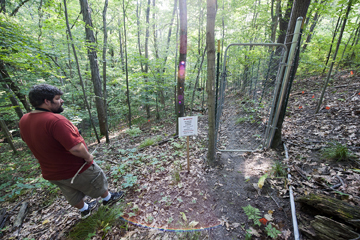 Ten miles from Purdue's West Lafayette campus, there exists a verdant biological sciences laboratory containing more than 100 animal species and more than 400 varieties of plants.
This laboratory isn't crammed into an academic building or confined to a controlled space, though. It's located in the Ross Biological Reserve -- 92 acres of mature forest, stretched along the Wabash River and complete with towering tree canopies, rolling vistas and burbling creeks.
Along with the Alton A. Lindsey Field Lab -- a 1,000-square-foot log cabin -- the reserve is home to Purdue classes, research and outreach projects, says Kerry Rabenold, professor of biological sciences and the reserve's director.
In the more than 60 years Purdue has owned the reserve, it has served as an invaluable tool for students and faculty hoping to unlock nature's best-kept secrets.
"The Ross Biological Reserve is like having a library with journals that renew themselves -- you have all this information that's free," Rabenold says. "In any other type of lab, you have to maintain everything that grows and work to ensure it stays usable, but out here, you have a whole ecosystem that maintains itself -- and this is fundamental for any program in ecology and evolutionary biology."
The reserve was established in 1948 on land that David Ross, a prominent Purdue benefactor, donated to the University. In 1999, the University built the lab named after Lindsey, a Purdue faculty member and prominent ecologist who was instrumental in establishing the reserve.
Fourteen faculty members use the reserve for teaching, research and outreach. Graduate students use it almost every day throughout the year for their research projects.
Ongoing research includes ecology and evolutionary biology graduate students' efforts to determine whether birds use calls that best travel in forests. Another ongoing project involves a botany graduate student studying heated plots to determine how climate change might affect flowers and their pollinators. Monitoring the composition of the forest for 60 years has shown that forests have great capacity for regeneration, within limits, and this teaches us a lot about sustainability, Rabenold says.
The reserve also is home to a vibrant community outreach program.
For example, regular workshops are held there for high school biology teachers, who learn how to test basic principles in natural settings.
Among other youth outreach efforts, the reserve hosts the annual Summer Biology Experience, which is a quantitative biology course for high school students. During the course, students collect data to learn basic ecological principles.
"The reserve is an invaluable tool to introduce and re-introduce kids to nature, and to show them the real-world implications of science," Rabenold says. "People are more and more insulated from nature -- seeing children's reactions the first time they're in a forest is a fantastic and rewarding thing."
This fall, the biological sciences department will ramp up a fundraising drive to erect a new building near the Lindsey lab, Rabenold says. The building will house an ecologist-in-residence and will be a model for the university and community of energy self-sufficiency through use of solar and geothermal technology.
A previous residency building exceeded its lifetime and was demolished two years ago, Rabenold says. Since then, the reserve's ecologist-in-residence -- typically a graduate student -- has been living off-site.
(This article originally appeared in Purdue Today, July 19 2012.)