Purdue Profiles: Peter Hollenbeck
09-04-2012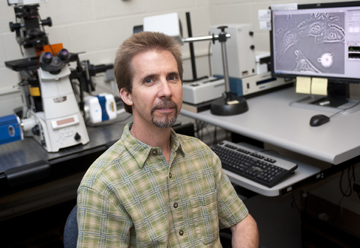 Peter Hollenbeck has been fascinated with cell biology ever since he received a miniature microscope for Christmas at age 10.
As a child, Hollenbeck studied pond water samples. These days, though, he tackles the mysteries of nerve cells -- the longest and some of the most complex cells in the human body. As professor and associate department head of biological sciences at Purdue, Hollenbeck seeks to understand how the nervous system's cells transmit messages, energy sources and raw materials across vast distances.
It is work, Hollenbeck says, that eventually could lead to a better understanding of -- and to cures for -- countless disorders and diseases.
How did you become interested in studying nerve cells?
Sitting on a shelf in my office is the mini microscope that got everything started for me when I was 10 years old. I took it down to a swamp near my parents' house and I started looking at pond water -- just a drop contains tens of thousands of species of protozoa as varied as all the animals on Earth combined. From that moment, I was hooked.
I completed a typical undergraduate biology degree, and then I went to graduate school at the University of California, Berkeley. I worked on cell division as a graduate student, and then as a postdoctoral fellow, I went to London to the Medical Research Council Cell Biophysics Unit to study nerve cells. I've been fascinated with the nervous system ever since.
What is your lab researching now?
The main theme in my lab has been the question of how nerve cells move things called organelles, which are their internal contents. We're interested in how they accomplish that, how they regulate it and what happens when that process gets disrupted.
Right now, we're trying to understand whether the long-distance movement of cells' mitochondria, which are the source of energy production, is significant in the pathophysiology of Parkinson's disease. We think it is, but we're not sure, so we're looking at the nervous systems of fruit flies to try to get some answers.
Looking at the bigger picture, our research has the biggest implication for neurodegenerative diseases, including Parkinson's, Alzheimer's and Huntington's diseases. Almost all degenerative diseases involve something going wrong at one end of the cell, the synapse, which in turn impacts a function the cell originally was meant to provide. Someday, the things we're doing in the lab could lead to a more complete understanding of the pathophysiology of these diseases. Our work should at least throw up targets for prevention or treatment, too. It could be very soon that we see these results or it could be 10 years down the road.
You're also involved in the national Tourette Syndrome Association. What do you do for that organization?
I've been a member of the association's scientific advisory board for 17 years and was the chairman for six years. I have a dog in the fight, though, because I suffer from Tourette syndrome. I wasn't diagnosed until I was a 31-year-old neuroscientist -- most people of my generation with Tourette syndrome weren't diagnosed until adulthood.
Because I grew up with Tourette and am considered a successful adult, I've also done a lot of public outreach for the association. I talk to kids, families, doctors and teachers -- plus I've done some lobbying in Washington. Tourette syndrome's effect on my career has been almost nonexistent, which is one of the reasons people want to hear from me. It means a lot to parents to get a sense that everything with their child is going to be OK.
What else do you do in your spare time?
I really enjoy competitive running. I've done it since I was 13; it's sort of the constant in my life. I've taken some shots physically in the last few years, but I've been lucky to bounce back. Just recently, I participated in a group road relay race in Bloomington. Later this fall, I'll participate in the inaugural Purdue Boilermaker Half-Marathon.
As you can probably tell, I enjoy sticking with things. With running, it's something I've done at all stages in my life. With science, it's something that took hold at an early age, and I've never looked back since.
Writer: Amanda Hamon, 49-61325, ahamon@purdue.edu
(This article originally appeared in Purdue Today September 4, 2012.)