New science program benefits freshmen
11-28-2012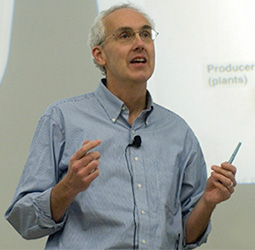 By MATT MARTIN Executive Reporter
The leader of a new study program in the College of Science said he hopes the program will help students succeed in their first year.
John Fisher, the director of recruiting in the College of Science, said the new program, called COSINE, or College Of Science Instructional Nightly Enrichment, will help students at their residence halls.
Fisher said the project is the brainchild of Dennis Minchella, the associate dean for undergraduate education, and is intended to help students who do not have the opportunity to get to professor office hours or the Biology Resource Center.
"We've noticed there is a need for students to have tutoring in the residence halls," Fisher said.
The study sessions are held from 7 to 10 p.m. on Monday and Wednesday in Harrison Grille as well as on Tuesday and Thursday in McCutcheon Hall, Conference Room C218. The sessions cover subjects such as biology, chemistry and calculus. The sessions have a focus on introductory courses and are available to all students.
Fisher said he wants to add other subjects such as physics next semester.
Amanda Mark, a sophomore in the College of Science and a tutor in the program, said she did not have the opportunity to study at her dorm during her first year.
"I definitely wish I had this experience when I was a freshman," Mark said.
Attendance to the nightly sessions vary from three to about 15 students but Fisher thinks this will increase as awareness of the program spreads. There are three tutors on duty every night to help students. Fisher said it is important to offer more options and help to students where it is not usually available.
"If the tutors are being used, the program is going very, very well," Fisher said.
Mark said there are some nights when there are a lot of students but not enough tutors. She said the program teaches students how to work together to understand problems in science and technology.
"I think it is really helpful for students who come to the tutoring sessions," Mark said.
Fisher said students come from all over campus to the sessions. He hopes the program will grow over the next few semesters.
"There's probably a need to have it spread across campus," Fisher said.
This article originally appeared in The Exponent on Wednesday, November 28, 2012.