C-GRIID scientists launch an infectious disease symposium at Tsinghua University
12-13-2011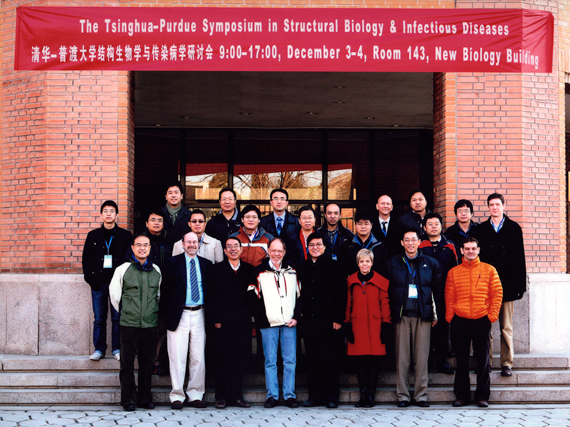 From December 3rd to the 4th, prominent scientists representing at least 30 research laboratories introduced their research and expertise in the broad areas of structural biology as it relates to infectious disease at a symposium in Tsinghua University. Among these are eight scientists from Purdue University and 17 professors from four different schools/departments of Tsinghua University. Representing Purdue at the meeting will include Michael Rossmann (Biological Sciences), Jason Lanman (Biological Sciences), Wen Jiang (Biological Sciences), Daoguo (Joe) Zhou (Biological Sciences), Zhao-Qing Luo (Biological Sciences), Catherine Hill (Entomology), Douglas LaCount (Medicinal Chemistry and Molecular Pharmacology) and Richard Kuhn (Biological Sciences).
To broaden the impact of this symposium, five scientists in structural biology and infectious disease from five other Chinese institutions have been invited to participate. The represented institution include the Academy of Military Medical Sciences, the Institute of Microbiology and Epidemiology, the Chinese Academy of Science Institute of Microbiology, the Chinese Academy of Science Institute of Biophysics, the Chinese Center for Diseases Control and Prevention-National Institute for Viral Disease Control and Prevention, and the National Institute of Biological Sciences.
This two-day symposium will take place on the campus of Tsinghua University and the meeting topics will be divided into four major scientific areas: microbial structures, microbial pathogenesis, anti-infection drugs and technologies, microbial structures and host responses. To facilitate future collaborations among the attendees, each of the speaking scientists will give a 15-minute presentation to introduce the research interest and technical expertise in his/her laboratory. This symposium represents the inaugural event for this collaboration between Purdue University and Tsinghua University in the area of structural biology/infectious disease.