Run! Peter Run!
01-05-2010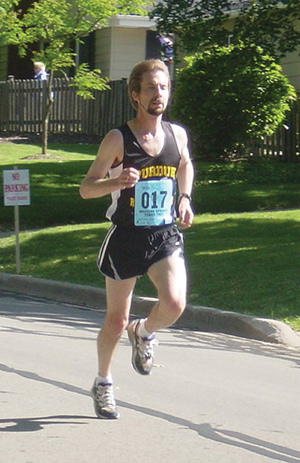 Professor Peter Hollenbeck, (B.S. '79) remembers his first race – "in gym class. I was a tiny boy and not very good at sports. About 60 of us ran a half mile for time, and I finished 5th or 6th. I was this squirrely little kid and I had just beaten 55 other boys. The next week, I started doing distance running training and have never stopped." He can barely remember what it was like not to be training for one race or another and has never understood how people who don't run can stand not to. Professor Hollenbeck has been the Faculty Advisor for the Purdue Running Club for about 10 years.
Peter has run in the neighborhood of 300 races, ranging from 800m on the track to mountain racing beyond the marathon distance. "I've run Boston twice and I plan to run a qualifier next year and go out there again in 2011.
I think that if you want to run and race for decades, it is best not to do too many all-out 26-mile races on concrete." Peter goes on to say "I'm an old guy now, so I compete against the other guys in my age division – the young guys have become more or less invisible to me! This keeps your spirits up and keeps racing interesting as you get older and slower. I might be 400th place in a big road race like the Indy half, but on a good day I can still get in the first 1-2% of my age".
Peter's most memorable experience is the last time that he won a race outright – the Brookline Massachusetts Flag Day 4 Mile in 1995. "It was only a local road race. I was 37 at the time, and there were at least 25 athletes in that field who were just better than me. But they went out way too fast on a warm Boston day, and I sat off of the pace – and when they all sagged I caught them one-by-one. I couldn't believe that I was winning the darned thing until I crossed the finish line. I had the thrill of winning in front of my friends and neighbors. I knew very well that it was a fluke, and that I would never again win a race – but it felt great anyway. It's also good to know that sometimes age and guile can triumph over youth and talent."