Recent study sheds new light on the human neurodegenerative disease, Friedreich ataxia
09-07-2010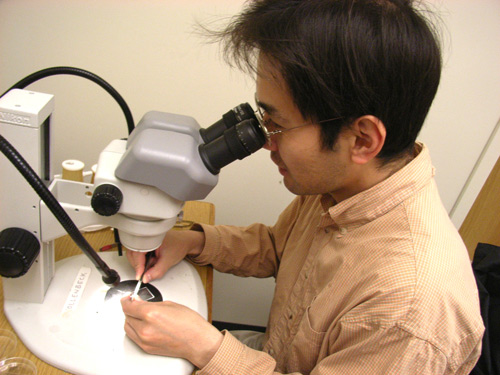 A recent study published in the Journal of Neuroscience sheds new light on the human neurodegenerative disease, Friedreich ataxia. The report from Yujiro Shidara, working in the laboratory of Biological Sciences Professor Peter Hollenbeck, used a Drosophila model of the human disorder. Human patients suffering from Friedreich ataxia have difficulty with sensation and movement which begins in their extremities, progresses to the trunk and becomes incapacitating. These symptoms are caused by a progressive deterioration in the function of nerve cells in the spinal cord, eventually causing them to die. For some time, Friedrich ataxia was known to involve the cell's mitochondria, which consume oxygen to provide energy to the cell. Until recently, the disease was thought to be due to cellular damage caused by unstable forms of oxygen, called reactive oxygen species, released from mitochondria. Instead of reactive oxygen damage, Dr. Shidara and Professor Hollenbeck identified defects in mitochondrial transport and metabolism, the latter actually being present from the earliest stages of development. This work redirects attention from oxidative damage in this disorder to a broader range of defects in mitochondrial biology. It also suggests that even neurodegenerative disorders that are not manifest until young adulthood or even old age may nonetheless have their basis in defects that begin to accumulate early in life.
The publication of this work is posthumous, since Dr Shidara died tragically in an automobile accident in December 2007.
Y. Shidara and P. J. Hollenbeck. 2010. Defects in mitochondrial axonal transport and membrane potential without increased reactive oxygen species production in a Drosophila model of Friedreich ataxia. Journal of Neuroscience 30:11369-11378.