Dr. William H. Phillips, Biological Sciences 2009 Outstanding Alumni
01-05-2010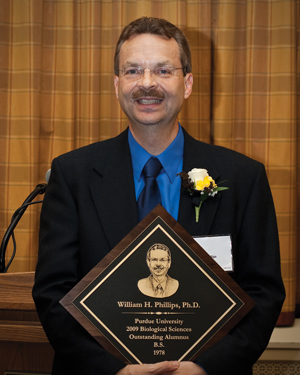 An exceptional leader in today's scientific community.
Dr. Phillips received a B.S. in Biology (Biology Honors Program) from Purdue University in 1978. From here Bill attended the Embryology Summer Program at Woods Hole Marine Biological Labs in 1979, attended the University of Virginia and graduated with his PhD in 1986 and was a Postdoctoral Fellow in Molecular Genetics at Monsanto Company in 1988. Bill went on to secure a position at Abbott Laboratories, Diagnostics Division later that same year.
During Bill's first 18 years at Abbott he managed the technical support organization responsible for Pregnancy, Fertility, Thyroid, and Metabolic Immunoassays on various instrument platforms. This group was composed of over 60 scientists with BS, MS, and PhD degrees in Biology, Chemistry, Biochemistry, and Medical Technology. His team supported on-market products and remedied assay problems all over the world, interacting with major hospitals, reference labs, and physicians. They were the first line of defense (aka emergency room) for all biochemical manufacturing problems. Bill's team designed experiments and executed investigations to resolve these issues and implement appropriate corrective actions.
Today Bill holds the position of Learning and Development Manager and is responsible for implementation of a new, competency-based, learning system throughout the division and globally across all Diagnostic sites. He has also been an active member of the Biological Sciences Alumni Advisory Committee since 2002, and served as the chair from 2004 – 2009.