2010 Biological Sciences Outstanding Alumni Award
12-08-2010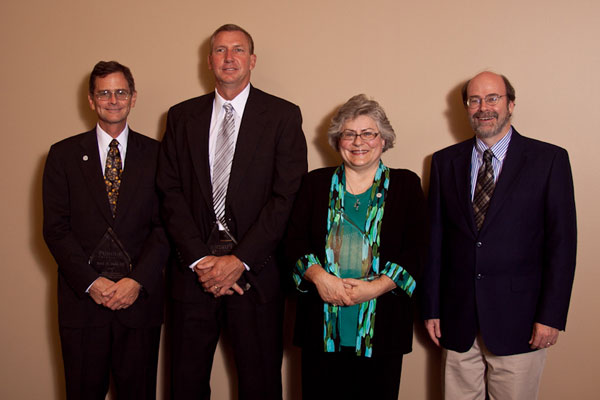 David L. Ayares, PhD
David L. Ayares, PhD graduated from Purdue University in 1982 with his bachelors of science in microbiology. Upon completion of his studies here, David entered the Department of Genetics at University of Illinois Medical Center where he earned his PhD in Mammalian Genetics in 1987. For his Postdoctoral Fellowship, Dr. Ayares attended the Department of Biology at M.I. T. Upon completion of his formal education David secured a position at Abbott Laboratories.
While at Abbott, David was the Senior Research cell/molecular biologist in Corporate Molecular Biology. After a stay of five years, David moved on to further his career with companies such as Baxter Healthcare and PPL Therapeutics, Inc. before accepting a position with his current employer, Revivicor Inc. Ayares, is currently the CEO and Chief Scientific Officer. Revivicor is a biotechnology company focused on regenerative medicine products derived from genetically engineered pigs; this includes islet cells for diabetes, whole organ replacement and medical device tissues that are a solution to the vast shortage of human donor tissues and organs. In his free time, Dr. Ayares enjoys playing sports and volunteering.
David W. Crabb, MD
Leaving Purdue University in 1974 with a bachelors of science degree, David W. Crabb MD, went on to receive his medical degree in 1978 from Indiana University School of Medicine. Following medical school, Dr. Crabb did his residency in internal medicine at IU School of Medicine followed by being a fellow in Gastroenterology there before being Chief Resident in Internal Medicine.
Upon completion of his education, David became an assistant professor, in medicine and biochemistry at the Indiana School of Medicine. In the past 27 years, Dr. Crabb has held several positions within IU's school of medicine, currently he is the John B. Hickam Professor and Chair. Throughout his career, Dr. Crabb has been presented with several honors, had many teaching assignments, been very instrumental on committees both professionally and within the community, been awarded several grants and fellowships plus been published several times. In his free time, David enjoys learning to play the mandolin, bagpipes and concertina, studying astronomy and learning different languages.
Chris L. Ohlemeyer
Chris L. Ohlemeyer, MD, became an alumnus of Purdue University in 1978 after receiving her bachelors of Science degree in Biology. Her education continued at University of Missouri, Columbia where she was awarded her Medicine Doctor in 1982. St. Louis University School of Medicine became her home for the next three years while she completed her residency in pediatrics followed by time at Children's Hospital Medical Center in Cincinnati, OH for a fellowship in adolescent medicine.
Upon completion of her fellowship, Dr. Ohlemeyer returned to St. Louis and developed adolescent health services for the St. Louis County Dept of health from 1987-1991. Her next position was with Saint Louis University School of Medicine, Cardinal Glennon Children's Hospital where she began their first Adolescent Medicine division in 1991. After 17 years of providing clinical services for teenagers, research and training of medical students and residents, she decided to lessen her workload by moving to her current position at Washington University student health care. Dr. Ohlemeyer is active in several professional organizations as well as enjoying her hobbies.