Courses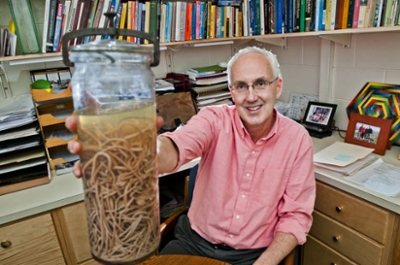 BIOL 115: BIOLOGY RESOURCE SEMINAR
The course is designed to help integrate new biology students into the Department of Biological Sciences, to help them adjust to university life, and to assist them in developing academic and intellectual survival skills using the medium of Biology 121 problem sets. The course meets once a week in groups of 20 students. Each section is led by an academic advisor and an undergraduate teaching intern. The class periods have an on-going emphasis on connecting students to one another as resources while learning information, critical thinking skills and problem-solving strategies. Topics includeethics, time management, and career development. Students are exposed to opportunities in undergraduate research, summer internships, the study abroad program, and teaching internships. Throughout the course, students are encouraged to plan their college education rather than merely
choose their courses.
BIOL 121: DIVERSITY, ECOLOGY AND BEHAVIOR
The introductory course provides an overview of the unity and diversity of life and attempts to construct a framework for ordering biology. Our approach to understanding biological principles is a novel, quantitatively oriented one. Topics range from molecular biology to ecosystem structure with an emphasis on the diversity, evolutionary history, and ecological relationships of organisms. In order to address the multi-disciplinary nature of living systems, students must be able to synthesize ideas across disciplines and to apply quantitative problem-solving strategies. Emphasis is placed on a logical and analytical approach to the living world.
BIOL 542E: ECOLOGICAL PARASITOLOGY
Parasites make up over 50% of the organisms on earth, yet they remain relatively unrecognized in the biological sciences. This course is designed to introduce students to the complex and bizarre world of parasitism, and to familiarize students with the important ecological factors that have allowed parasites to become so prolific. Topics addressed in this course include disease transmission, host specificity, parasite-induced morbidity/mortality, and host resistance. Labs will complement lecture topics and will incorporate molecular techniques, whole-organism experiments and field collections. As part of the lab component, students will also be exposed to standard statistical procedures. This course will emphasize concepts using parasites from the protozoa through to the arthropoda. 
LCME 506:MEDICAL MICROBIOLOGY
This is a team-taught course for first -year medical students at Indiana University School of Medicine, and Minchella teaches the Parasitology portion of the course.
BIOL 696:  DISEASE ECOLOGY AND EVOLUTION
A graduate level course linking studies of parasite ecology and evolution with the theoretical framework of evolutionary ecology.