Dr. P.T. Gilham Graduate Scholarship Endowment Fund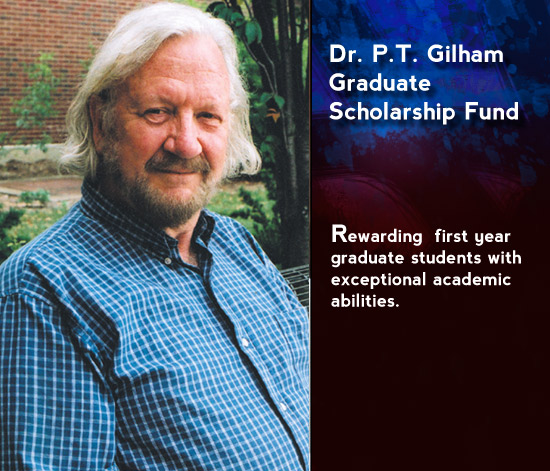 The Dr. P.T. Gilham Graduate Scholarship Endowment Fund will be used to attract and reward first year graduate students with exceptional academic abilities. The fund will support a Purdue education for the brightest and most capable students, providing one or two incoming graduate students each year with $2,500 scholarships. The benefits to the students who will receive the honor of being selected as Dr. P.T. Gilham Graduate Scholars will extend far beyond their time at Purdue. By recruiting these students to Purdue and giving them the opportunity to earn a Purdue Biological Sciences degree this fund will have impacted their success for a lifetime.
Establishing this tribute to Dr. P.T. Gilham, an outstanding scholar in the biological sciences, is a fitting way to acknowledge 50 years of scientific discovery. Dr. Gilham was an interdisciplinary leader long before the term interdisciplinary became a buzzword on college campuses and in laboratories across the nation. As Dr. Gilham's career unfolded, his cutting-edge research became the vehicle for engaging young graduate students in the excitement of scientific discovery. For decades, he provided his students with challenging experiences, deepening their desires for exploration and innovation. The Dr. P.T. Gilham Graduate Scholarship Fund will not only honor a skilled scientist upon his retirement, it will also provide young scientists with the resources to ignite their scientific career.
Make A Gift to the Dr. P.T. Gilham Graduate Scholarship Endowment Fund