Undergraduate Studies
Biology Teaching Intern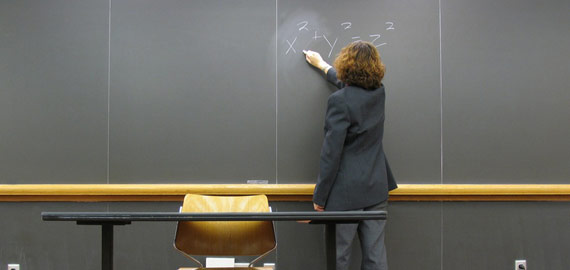 Instructors seeking teaching interns may consult the Biology Counseling Office to identify interested students. Completing the application does not commit students to being a teaching intern in any course.
The following rules apply to being a biology teaching intern:
Students may teach in a particular course for credit only once.

Students may intern as many times as they want for pay (maximum of 10 hours/week).

If students choose to teach for credit, they receive three credits of BIOL 398 (juniors) or BIOL 498 (seniors) for 10 hours/week of teaching.

Students may apply no more than six (6) credits for being a teaching intern toward university graduation requirements.
Biology 115 Teaching Intern (TI)
Student will assist a staff member in teaching two sections of the Biology Resource Seminar (BIOL 115) during fall semester. Responsibilities include assisting freshmen in their transition to college life, modeling problelm-solving skills related to BIOL 121 problem sets, grading assignments, conducting two office hours per week in the Biology Resource Center, and participating in the classroom activities. Teaching Interns must be juniors or seniors (at the time they teach the class), have received an A or B in BIOL 121, have good study skills and time managment skills, must be progressing towards a biology degree with a good academic record, have professional manners and appearance, and enjoy working with students and speaking in front of a group. Student can receive pay or three (3) academic credits (BIOL 295 or 498).
Biology Resource Center (BRC) Tutor
Responsibilities include assisting undergraduate Biology students (primarily first and second year) with understanding biology principles related to the core lectures and labs, helping students to assess and implement learning skills, and providing connections with core courses. Tutors will spend 8-14 hours per week in the BRC, must have completed Biology core courses with grades of A or B, and will be paid an hourly wage.
Biology Department Tour Guide
Responsibilities include hosting prospective Biology students (and their families) or others (e.g. alumni) on a 45-minute walking tour of the departmental facilities. Tour guides will introduce visitors to the counseling office, LILY 1-105 lecture hall, first years' labs, BRC, and other areas of the department and answer pertinent questions. Tour guides will also take visitors to their research lab and discuss their current research project. Students will spend 1 to 2 hours per week as a scheduled guide or be a backup for special tours. Tour guides must be progressing toward a biology degree, involved in research in the department, have professional manners and appearance, be enthusiastic about the Department of Biological Sciences, and enjoy talking with people.  Tours are given M-F, 1:30 pm on days when school is in session.
Science Ambassador
Science Ambassadors volunteer to help with on- and off-campus recruiting programs, meet with alumni, and are resources for the School of Science Recruiting Office and the University Admissions office. There are usually about 25 students chosen to be Ambassadors. Students must be pursuing a School of Science degree as a full-time undergraduate student, have at least two semesters remaining, have at least a 2.5 GPA, and be able to speak openly, tactfully, honestly and positively about their experiences at Purdue University. Rewards are meeting interesting people, learning about the College of Science, public speaking experience and a polo shirt.
Talk with an advisor and pick up an application in the Biology Counseling Office, Room 1-123 of Lilly Hall.