Teaching and Outreach
Note to educators and the community: If you are interested in having someone from our lab speak with your class, library, group, etc., about aquatic ecology, amphibians, plankton, or disease ecology, please contact us. We welcome opportunities to talk about science!
Outreach flyers:
During a recent lab meeting, each lab member created an "outreach flyer" to summarize the main goals and findings of their research for non-scientists. Click on the links below to download PDF's of these flyers:
  - Hector's research on endangered frogs in Costa Rica (PDF)
  - Spencer's plan to study overwintering of Bd (PDF)
  - Abbie's experiment testing hatching rates of ephippia (PDF)
  - Juliana's research investigating species invasions (PDF)
  - David's work on antibiotics and disease suceptibility (PDF)
---
Outreach and media:
Diversity cover image
Summary of paper in The American Naturalist
Guest blog post for Dynamic Ecology
The Scientist article on chytridiomycosis
Ecology and Evolution cover image (PDF)
Blog post on Daphnia and chytrid
FrogLog 107 (PDF)
FrogLog 99 (PDF)
Nova Science Now "Dinosaur Plague" (section on chytridiomycosis starts around 10:00)
Corvallis Gazette Times (PDF)
---
Courses taught by Dr. Searle:
Disease Ecology (BIOL 595/FNR 598), offered every spring
Field Ecology (BIOL 591), offered every-other fall (odd numbered years)
Year 1 Biology lab in Disease Ecology (BIOL 195), offered every-other fall (even numbered years)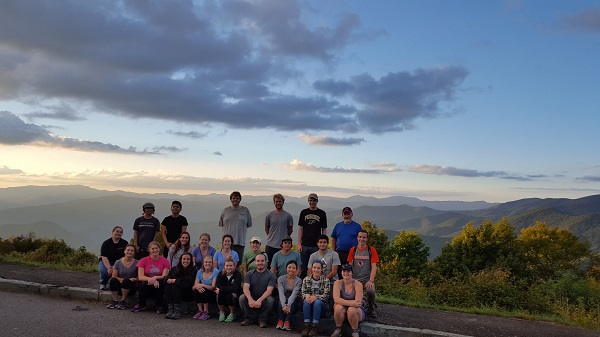 Field Ecology (Bio 59100) class field trip to the Great Smoky Mountains National Park (fall 2016).