Welcome to the Searle Lab website!
Our lab studies infectious disease ecology in freshwater systems. We use a combination of observational, experimental, and modeling approaches to understand the effects of community structure and composition on infectious disease dynamics.
Follow me on Twitter: @Cat_Searle
News
May 8, 2017
It was a beautiful day to kick off the start of the summer. Baylie and Abbie went to Fairfields lakes to collect water for upcoming experiments.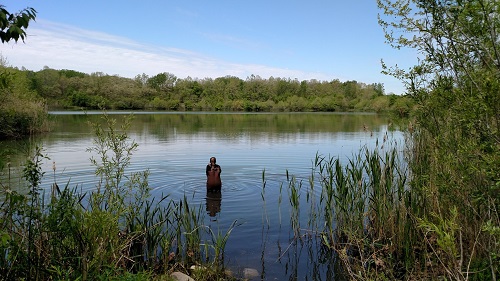 ---
May 6, 2017
Spencer partnered with NICHES Land Trust to organize a Bioblitz at one of their local reserves.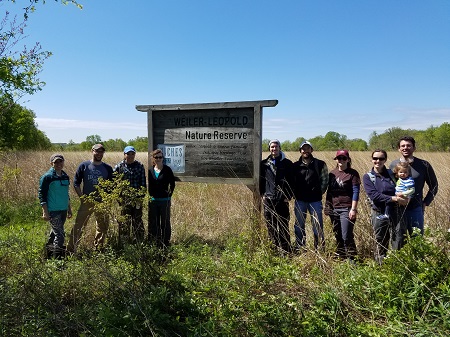 ---
April 25, 2017
Congratulations to Baylie on earning a McAtee award! The McAtee fund was originally established by Mary Frances McAtee to provide Purdue undergraduates with research experience in ecology. Baylie will be using her award to fund her research in the lab this summer.
---
April 11, 2017
Undergraduate students from around Purdue presented the results of their research at the Undergraduate Research and Poster Symposium. Baylie, Juliana and Mackenzie all did an excellent job presenting their posters!
Juliana presenting her poster titled "The effects of food availability and disease on invasibility of a zooplankton population."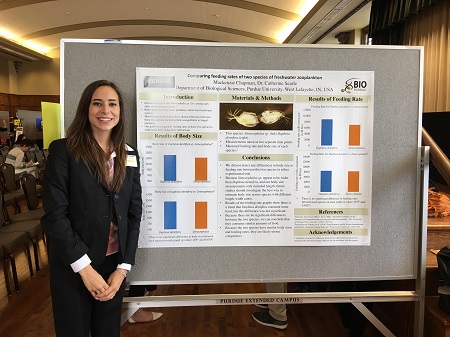 Mackenzie presenting her poster titled "Comparing feeding rates of two species of freshwater zooplankton."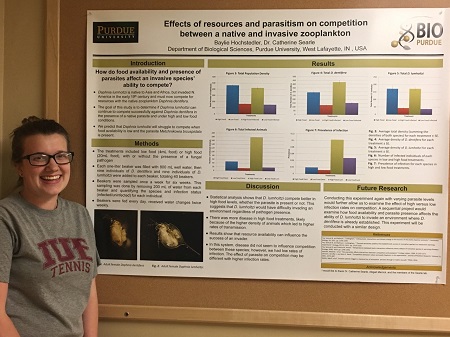 Baylie presenting her poster titled "The effects of resources and parasitism on competition between a native and invasive zooplankton."
---
February 21, 2017
Congratulations to Hector on receiving a College of Science International Travel Grant and an Andrews Environmental Travel Grant! Hector will be using his CoS award to travel to the Latin American Congress of Herpetology in Ecuador this June and his Andrews grant to conduct field work in Costa Rica this summer.
---
February 8, 2017
Spencer has been braving the cold weather to swab amphibians for Bd at the Ross Reserve. He is investigating the overwintering strategies of Bd in frog hosts.