Welcome to the Searle Lab website!
We are located in the Lilly Hall of Life Sciences room G-366. Phone: 765-494-9016
News
November 28, 2018
Laura's project investigating the interactive effects of salinity and duckweed on Daphnia is looking good!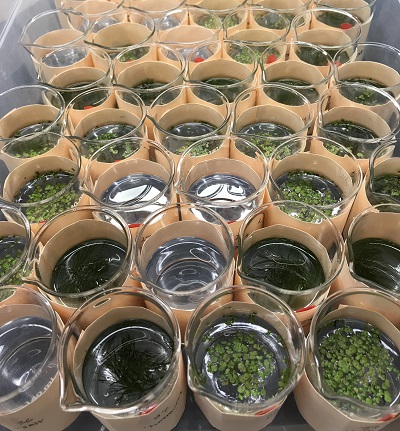 ---
October 24, 2018
Everyone worked hard to dig the artificial ponds today! We'll be looking at establishment of amphibians and their parasites in these containers through time.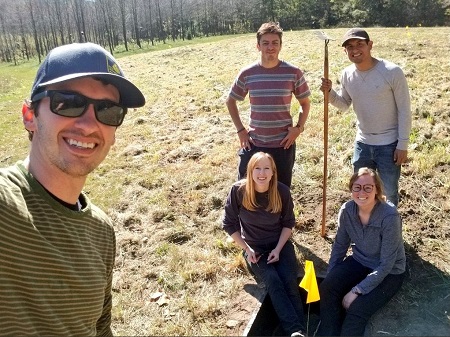 ---
September 19, 2018
Kacie did a great job setting up the mesocosm experiment at the Ross Reserve today. She is studying the effects of salinity on freshwater communities.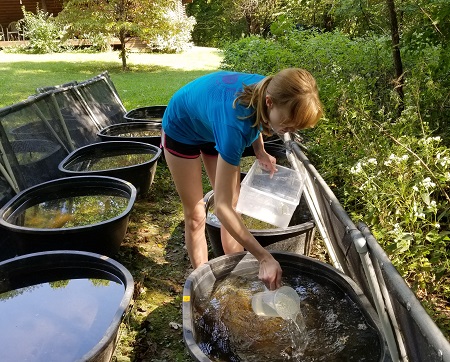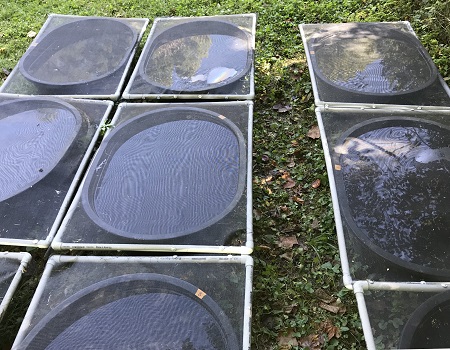 ---
August 20, 2018
We've had a busy summer! Here are some photos from our summer field sampling and experiments: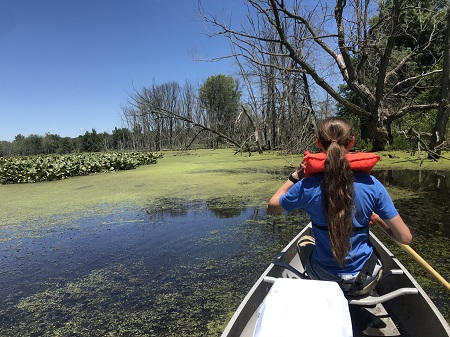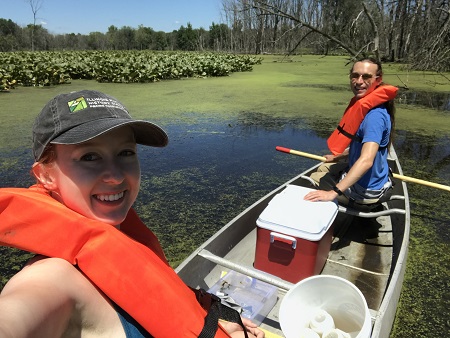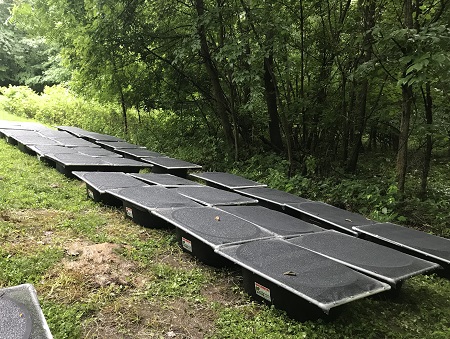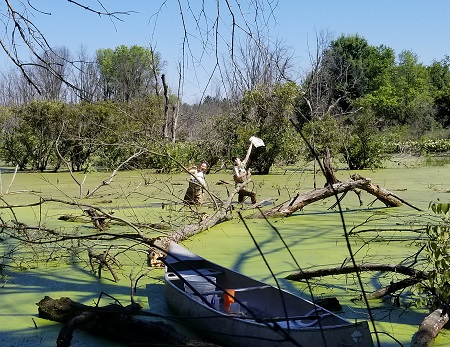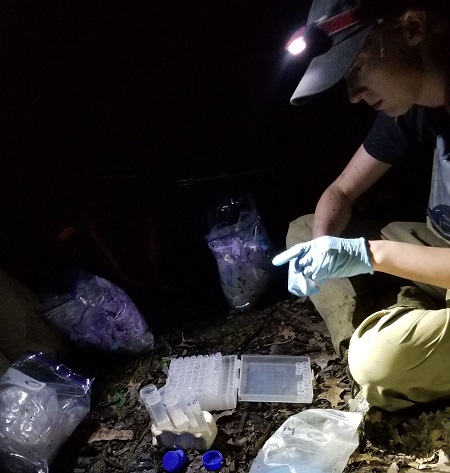 ---
August 2, 2018
Mariah did a great job presenting the results of her summer research at the SURF symposium today. Her talk was titled "Effect of salts on the amphibian chytrid fungus, Batrachochhytrium dendrobatidis."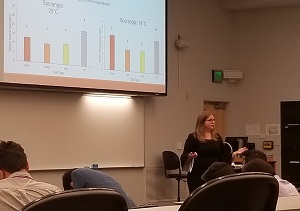 ---
July 23, 2018
Congratulations to Hector on being awarded a Yeunkyung Woo Achieve Excellence Travel Award! Hector will be using the award to travel to the Amphibian Disease annual meeting in Arizona this October. There, he will present the results of his research on disease dynamics of two critically endangered Costa Rican frogs. 
---
May 14, 2018
Summer has started and we have three new undergraduates joining the lab. Jeannine and Mariah will be studying Bd dynamics in Indiana while Kiersten will be travelling to Costa Rica to study endangered frog populations. Welcome to the lab!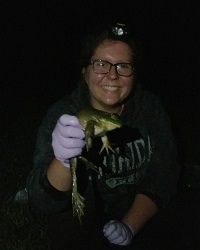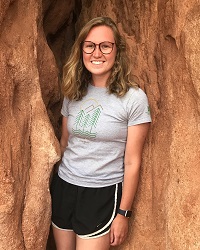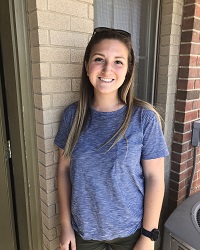 ---
May 9, 2018
We have a new technician joining the lab, Kacie Jonasen, who comes to us from the University of Illinois at Urbana-Champaign. Welcome to the lab Kacie!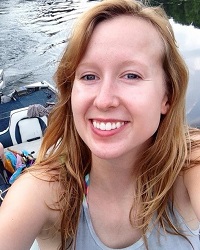 ---
May 4, 2018
Congratulations to our graduating seniors: Juliana Ilmain, Mackenzie Chapman, and Prasanna Janakiraman! Juliana will begin graduate school at NYU this fall while both Mackenzie and Prasanna will continue their education at Purdue. Best of luck to all of you!


---
April 10, 2018
Juliana, Mackenzie, and David presented the results from their honors theses at the Purdue Undergraduate Research Conference.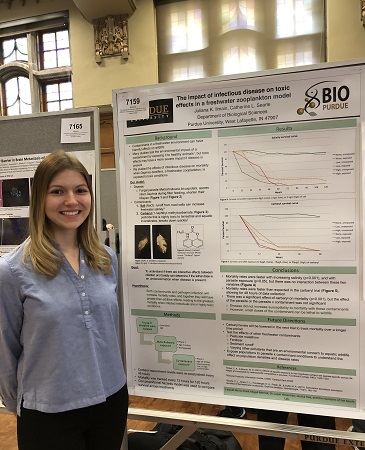 Juliana presenting her poster titled "The impact of infectious disease on toxic effects in a freshwater zooplankton model"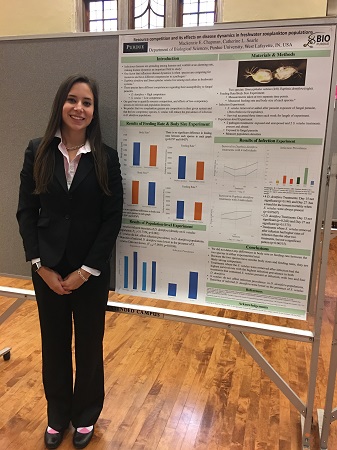 Mackenzie presenting her poster titled 
"Resource competition and its effects on disease dynamics in freshwater zooplankton"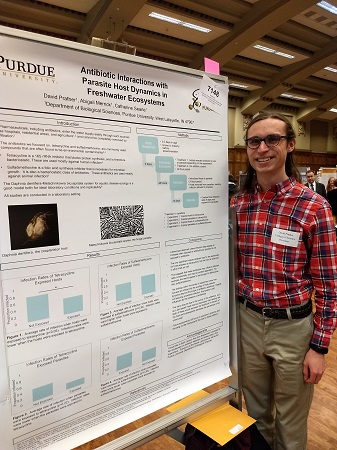 David presenting his poster titled 
"Antibiotic interactions with parasite host dynamics in freshwater ecosystems"
---
March 24, 2018
Spencer and Marin presented the results of their research at the Indiana Academy of Sciences this weekend.
Marin presenting her poster titled "Examining differences in anuran communities between man-made and natural wetlands in central Indiana"
Spencer giving his talk titled "Examining the fungal pathogen, Batrachochytrium dendrobatidis, in anurans during winter in Indiana"
---
March 3, 2018
Congratulations to Laura on winning the gold medal in the Animal Sciences category of the Lafayette Regional Science and Engineering Fair for her project titled "The effect of salinity and common hornwort (Ceratophyllum demersum) on Daphnia presence."
---
February 14, 2018
Hector is spending this semester surveying amphibians in Costa Rica. Here are some photos from his trip: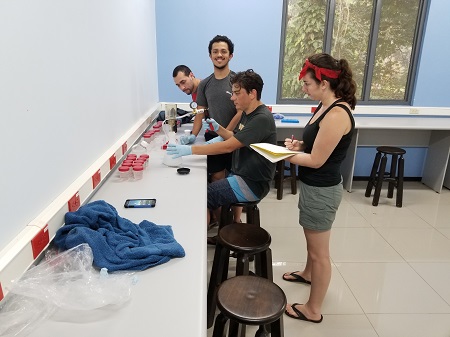 Filtering water to detect the presence of B. dendrobatidis from stream samples.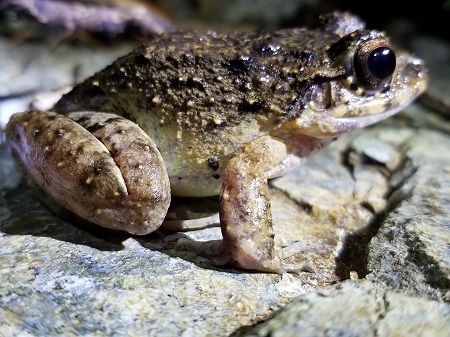 A critically endangered lowland robber frog.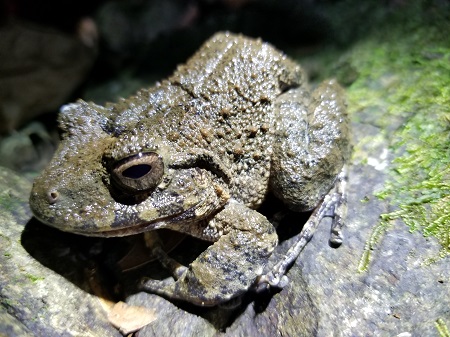 A critically endangered Golfito robber frog.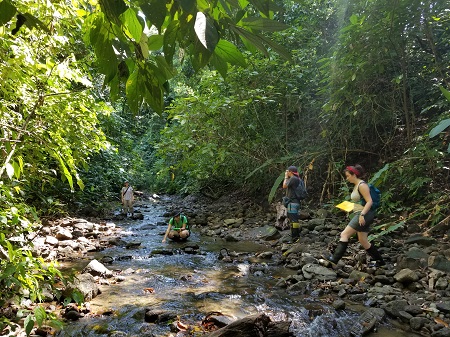 Collecting environmental data.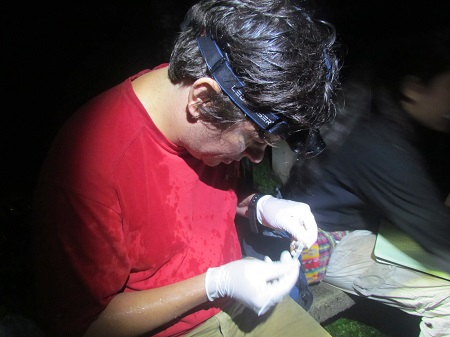 Swabbing frogs to detect B. dendrobatidis infection.
---
February 5, 2018
Our new lab t-shirts arrived! Thanks to Grace Sanabria for the awesome design!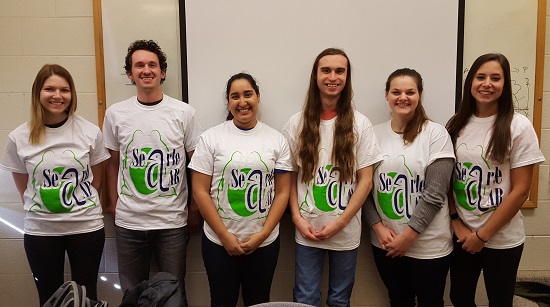 ---
December 2, 2017
Photo from our end-of-semester lab party: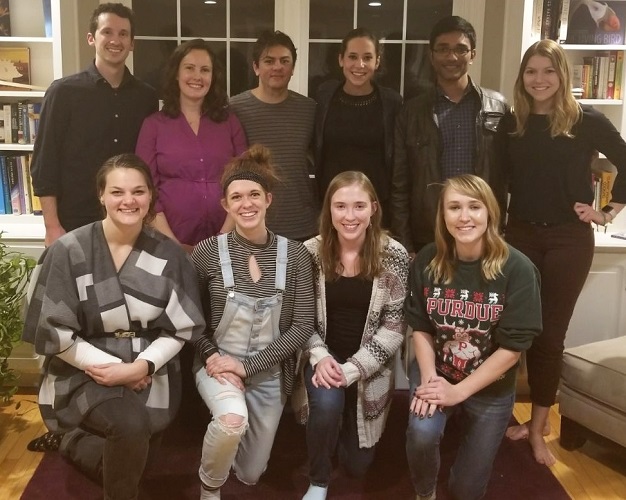 Top row (left to right): Spencer, Dr. Searle, Hector, Mackenzie, Prasanna, Juliana. Bottom row: Abbie, Marin, Brittany, Maggie. (Missing: David)
---
November 8, 2017
Congratulations to Spencer on receiving an Indiana Academy of Sciences grant! Spencer's project is titled: "Interactions of amphibian overwintering strategies and infection of the fungal pathogen, Batrachochytrium dendrobatidis in Indiana amphibians."
---
August 21, 2017
Fall semester has begun and we have two new undergraduates and one high school student joining the lab. Welcome to the lab, Laura, Brittany and Prasanna!
---
July 28, 2017
Congratulations to Liz on completing her summer REU project. Liz presented a talk and poster titled "Comparison of frog call characteristics between natural and man-made habitats."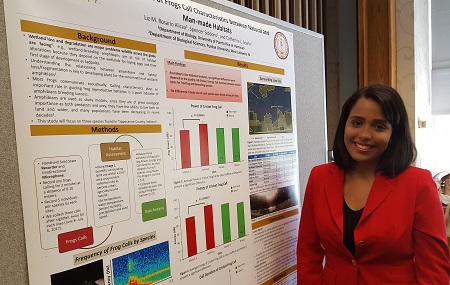 ---
July 24, 2017
This week, Hector is attending the Latin American Congress of Herpetology in Quito, Ecuador. He is giving a talk titled "Rediscovery and monitoring of two critically endangered frogs in environmental refuges from chytridiomycosis."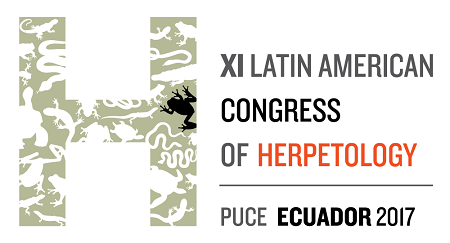 ---
July 5, 2017
Congratulations and good luck to Baylie Hochstedler! Baylie recently completed her undergraduate honors thesis and graduated from Purdue with a degree in Biological Sciences. She will be starting a master's program in Infectious Disease and Immunology at Loyola University this fall. Good luck Baylie!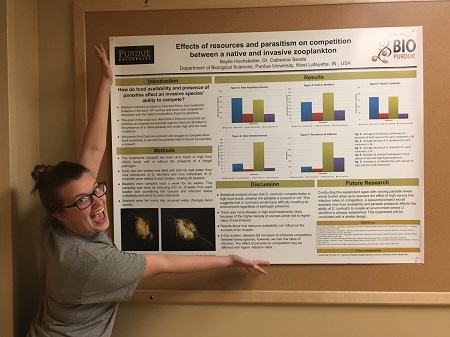 ---
May 22, 2017
We have two new undergraduates joining us this summer. Liz Rosario is from the University of Puerto Rico and is funded through the NIH MARC program. Marin Bray is a Purdue student funded through the Summer Stays program. Both Liz and Marin will be working with Spencer to study the effects of habitat restoration on the health and abundance of amphibians in Tippecanoe County. Welcome to the lab, Liz and Marin!
---
May 8, 2017
It was a beautiful day to kick off the start of the summer. Baylie and Abbie went to Fairfields lakes to collect water for upcoming experiments.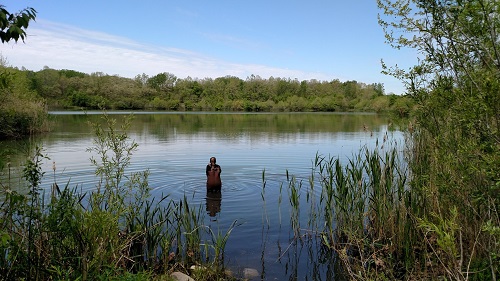 ---
---