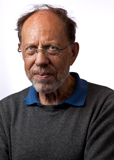 MICHAEL G. ROSSMANN
Hanley Distinguished Professor of Biological Sciences;
National Academy of Science

Phone:

Personal Site: Link
The central interest of my laboratory is the determination of the three-dimensional, atomic resolution structure of viruses. However, it is not only the structure of the mature infectious virus that interests us, but all the structures that are involved in the assembly of the virus in a host cell, the interaction of viruses with host cells that initiates entry into the cell and infection, as well as the structures of viruses complexed with neutralizing antibodies or antiviral agents (potential drugs). In short, we are investigating the way viruses interact with their environment.
Our tools are X-ray crystallography for high resolution studies and electron microscopy for lower resolution studies of transient virus complexes, as well as all the tools of molecular biology. The viruses we are currently studying include a variety of small RNA animal viruses, such as common cold viruses, polioviruses and coxsackieviruses. We are also looking at more complicated, lipid membrane enveloped RNA viruses, such as dengue virus and alphaviruses. We have long been interested in the small DNA parvoviruses. Finally, we have been studying how viruses package their nucleic acid genomes in the analyses of a variety of bacterial viruses.
Education
Ph.D., Glasgow (Scotland), 1956
Awards
Member of the Royal Society of London
Member of the National Academy of Sciences
Recipient of a third National Institutes of Health MERIT Award, 2006
Elected Fellow, American Academy of Microbiology, 2007
Other Activities
Editorial Boards
Current Opinion in Structural Biology
Structure with Folding and Design
Virology
Grant Review/Study Section
NIH
NSF
NIH Virology Study Section, Washington, DC, June 16, 2004.
Austrian Science Foundation
European Science Foundation
German-Israel Foundation for Science Research and Development
Professional Faculty Research
(Molecular biology; biophysics) Structure of picornaviruses (rhinoviruses, Mengo virus, coxsackievirus, poliovirus), parvoviruses, alphaviruses and bacteriophages, fX174, f29, T4; molecular evolution.