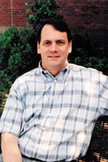 JEFFREY T. BOLIN
Professor
Associate Vice President for Research CoS
HOCK 133
Phone: 765-494-4922

Our research is in structural biology, a field that lies at the interface between molecular biology, biochemistry, and biophysics. We study relationships between the three-dimensional structures of proteins and their functions at atomic resolution through the application of X-ray crystallography in combination with other biophysical and biochemical methods. We focus on metalloenzymes because of their special abilities to catalyze difficult reactions. One project targets enzymes involved in the biodegradation of aromatic compounds, a process that has potential applications in the bioremediation of many deleterious pollutants. For example, we study several enzymes from a bacterial pathway that has a partially developed ability to degrade polychlorinated biphenyls, PCBs. These notorious, man-made chemicals have the potential to promote cancer and adversely affect neural development. They also contaminate the soils, rivers, and lakes of Indiana and other manufacturing states, as well as many other locations throughout the world. By analyzing the structure and function of enzymes that can partially degrade PCBs we contribute to an international effort to develop a safe process that can be used to eliminate PCBs from storage sites and the environment. In addition, some of the enzymes we study have applications in biotechnology, such as in the synthesis of drugs and other chemicals. Understanding how the enzymes work also advances these applications.
Education
Ph.D., California, San Diego, 1982
Other Activities
Professional Organizations:
American Crystallographic Association
American Association for the Advancement of Science
American Chemical Society
Society of Biological Inorganic Chemistry
Society for the Advancement of Chicanos and Native Americans
International Union of Crystallography
Phi Beta Kappa
Other Professional Service:
Member, Big Ten Conference Legislative Review Committee
Faculty Athletics Representative, Big 10 Conf. & NCAA (2003-2008)
External Advisory Committee for the BioCAT Sector, Advanced Photon Source, Argonne National Laboratory, 2000-present; Chair 2003-present
Director, Shared Resource for Macromolecular Crystallography (Cancer Center), 1998-
Director, NIGMS Institutional Graduate Training Program in Molecular Biophysics
Professional Faculty Research
(Structural molecular biology; biochemistry) Protein structure and function; X-ray crystallography; metalloenzymes; biodegradation of PCBs and related compounds.