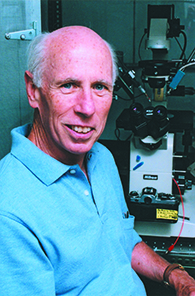 KENNETH R. ROBINSON
Professor

Phone:

I am interested in understanding how a fundamental property of living organisms, polarity (or asymmetry), develops. Within the first few cells of the developing embryo, molecules are in incessant motion and will mix so that differences in concentrations are eliminated. Yet living organisms create and maintain the asymmetries that lead to the development of pattern, so that an animal embryo quickly develops a head and a tail and a plant embryo develops a root and a shoot. The development of pattern requires that molecular asymmetries be established and maintained so that the daughter cells inherit different materials, thus giving rise to the radically different types of cells that make up an adult organism. But what molecules and by what physical means are the gradients established? 
To learn more about this process, we apply the latest advances in optics, imaging and molecular biology to study the development of polarity in the eggs of a humble marine seaweed. Its eggs are fertilized in sea water and develop their polarity in an environment free of other cells. The major players in this process — gradients of calcium, the action of actin microfilaments, a signaling molecule called cyclic GMP — are also involved in polarity formation in many other systems.
Education
Ph.D., Purdue, 1973
Professional Faculty Research
(Developmental physiology) Ionic and electrical control of polarity and pattern formation during early development, with an emphasis on intracellular gradients of Ca 2+ and pH as mediators of external signals.
Awards
Other Activities
BioCurrents Research Center (an NIH-funded national center) site visit, Woods Hole Massachusetts, June 13-15, 2004. Presented the module on Cell Polarity to the site visit team.
Grant Review/ Study Sections
Advisory Boards
The BioCurrents Center, Marine Biological Laboratory, Woods Hole, MA (An NIH national resource facility).
Faculty Presentations
"Electrical control of Drosophila Neuroblast Polarity," Gordon Research Conference on Bioelectrochemistry, New London, Connecticut, July 25-29.
"The accidental tourist: A developmental biologist confronts the actin cytoskeleton," Chicago Cytoskeleton Meeting, Chicago, Illinois, September 17-18, 2004.
Conference
Annual Meeting of the American Society for Cell Biology, San Francisco, California, December 13-17, 2003. Poster presentation: "Identification of stretch-activated necessary for pollen tube germination and growth."
Gordon Research Conference on Bioelectrochemistry, New London, Connecticut, July 25-29. Chaired the session on Developmental Polarity. Poster presentation: "Effects of an electric rield on zebrafish keratocyte locomotion" (co-authored by Peter Cormie and Ling Huang).