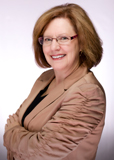 NANCY PELAEZ
Associate Professor
LILY G-224
Phone: 765-496-3261

Dr. Nancy Pelaez is an Associate Professor of Biological Sciences in the College of Science with a courtesy appointment in Curriculum and Instruction. She holds a B.S. in Biology summa cum laude from Tulane University, a k-12 California teaching credential in both Life Science and Physical Science from Mills College, and a Ph.D. in Physiology and Biophysics from Indiana University School of Medicine as a Howard Hughes Medical Institute fellow. Pelaez is currently PI of the NSF-funded project, "Advancing Competence in Experimentation – Biology (ACE-Bio) Network," is Co-PI of NSF#1661124 "Exploring Biological Evidence," and has served as External Evaluator of several NSF-funded educational projects including the Faculty Developer Network for Undergraduate Biology Education and the Diagnostic Question Clusters (DQC) project to diagnose student misconceptions in biology. Pelaez was the recipient of the 2016 Guyton Educator of the Year from the American Physiological Society, she was the 2014 Indiana LSAMP Faculty Mentor of the Year, and in 2015 she served as the Fulbright-University of Applied Sciences FH Campus Vienna Visiting Professor. With more than 40 refereed publications in the field, Pelaez is now Convener of the Biology Education Area (BEA), which was established as one of six research focus area in the Department of Biological Sciences at Purdue.
Education
Indiana University, Indianapolis, IN, Physiology and Biophysics, Ph.D. (minor areas in Science Education and Biochemistry) Thesis: Altered arterial muscle contractility and estrogen protection in spontaneous hypertension
Mills College, Oakland, CA, Science Education: Physical Sciences and Life Sciences K-12 Single Subject Science Teaching Credential
Tulane University, New Orleans, LA, Honors in Biology, Newcomb College Biology Prize: Analysis and comparison of three deciduous forests, B.S. summa cum laude with Honors in Biology.
Professional Faculty Research
(Physiology) Vascular smooth muscle physiology and signal transduction, physiology and evolution, physiology education.