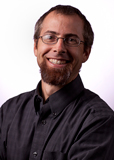 EDWARD BARTLETT
75% Biology, 25% Biomedical Engineering
Associate Professor
MJIS 2023
Phone: 765-496-1425

Personal Site: Link
The goal in the laboratory is to understand how physical signals, especially sound, are represented by neural activity in the auditory thalamus and auditory cortex in normal and pathological conditions. These neural representations then form the basis for sound perception and the decisions or actions that arise as a consequence. Experimentally, our studies of neural representations involve recording the activities of individual neurons in the auditory thalamus and cortex while an awake animal listens to sound stimuli. Neural activity takes the form of patterns of rapid electrical changes in the neuron, called action potentials or spikes. Changes in the rate and pattern of spiking by a neuron can indicate the presence of a particular sound feature, such as the frequency or the loudness of the sound. In pathological conditions such as aging or dyslexia, it is known that auditory perception is degraded. However, it is unknown how this translates to a degradation in the ability of neurons to reliably represent sound features. We will investigate this issue in our experiments.
In addition, the laboratory studies the cellular mechanisms that are responsible for the generation of the neural responses observed in vivo. To do this, whole-cell patch clamp recordings are performed on neurons in brain slices while electrically stimulating the inputs to the neuron in order to generate synaptic potentials. An understanding of the cellular mechanisms underlying neuronal responses will allow us to predict how changes in the cell incurred by aging or other pathological insults will affect neuronal responses. This then gives us the cellular basis for the perceptual deficits observed at the whole organism level. Furthermore, it allows for the possibility of pharmacological treatment of any observed cellular deficits that could lead to a remediation of perceptual deficits.
Finally, neuroanatomical techniques are used to correlate neuronal responses with their location within the auditory thalamus or cortex in vivo or with their cellular morphology in brain slices.
Other Activities
Professional Organizations:
Society for Neuroscience
Association for Research on Otolaryngology
Invited Lectures, 2006-2008:
Biomedical Engineering Seminar, Purdue University, September 13, 2006.
Speech, Language, and Hearing Sciences Seminar, Purdue University, November 20, 2006.
"Eh, what's that, sonny? Comparison of central auditory processing in normal versus aged animals." Biological Sciences Research Presentation, November 29, 2006.
"Future directions of the Central Auditory Processing Lab: A small attempt at an ecological/ethological perspective" Eco-lunch, Purdue University, January 24, 2007.
Other Activities, 2006-2008:
The Tucker-Davis Symposium on Advances and Perspectives in Auditory Neurophysiology Meeting, Satellite symposium at the Society for Neuroscience Meeting, Atlanta, Georgia, October 14-18, 2006.
Advances and Progress in Auditory Neurophysiology Satellite Conference and at the Society for Neuroscience Annual Meeting, San Diego, California, November 2-5, 2007. Poster presentation.
Professional Faculty Research
(Neurobiology and physiology) Central auditory neurophysiology and neuroanatomy at the systems and cellular levels.