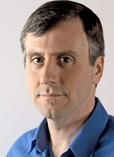 DAVID A. SANDERS
Associate Professor
LILY 1-228
Phone: 765-494-6453

One of the main challenges in gene therapy research is the delivery of the genetic material to particular cells. Retroviruses are most commonly used as the vehicles for inserting genes into the cellular genome. We have designed a set of novel viruses that show great promise for gene therapy. The viruses consist of retrovirus proteins on the interior and the proteins of other viruses on the surface. These " pseudotyped" viruses have been made with surface glycoproteins from a family known as the alphaviruses and from the Ebola virus. The retroviruses with the alphavirus glycoproteins, constructed in a collaboration with the Kuhn laboratory, have properties that make them superior to any of the other retroviruses previously utilized and have been demonstrated to have strong capacities for gene transfer to the liver and the central nervous system. The retroviruses with the Ebola virus glycoprotein have unique capabilities to enter the lung through the airway and may have utility for gene therapy for cystic fibrosis. We have discovered a technique for greatly increasing the effectiveness of the retroviruses with the Ebola virus glycoprotein and have also acquired evidence indicating that the natural host of the Ebola virus may be a bird.
Education
California, Berkeley, 1989
Awards
Federation of American Societies for Experimental Biology Science Policy Committee, 2016-
Purdue University College of Science Team Award--2015
Outstanding Mentor of 2003/2004 Siemens Westinghouse Competition in Math, Science, Technology & Winners, August 2004. For work with high school student Alexander W. Hertel-Fernandez.
American Cancer Society Research Scholar Award--2003
National Science Foundation CAREER Award--1999
Other Activities
US Defense Threat Reduction Symposium on Scientific Collaboration with former Soviet Union scientists, St. Petersburg/Novosibirsk, Russia, July 15, 2003.
Sabbatical, Weizmann Institute in Rehovot, Israel, August 3-December 31, 2003.
The Cooperative Biological Research Annual Review Symposium sponsored by the U.S. Defense Threat Reduction Agency, St. Petersburg, Russia, July 12-21, 2004. Participated in lab inspections at Novosibirsk and talks about scientific collaboration, St. Petersburg, and Novosibirsk, Russia, July 12-21, 2004.
Grant Review/Study Section
US Army Medical Research and Material Command
NSF Molecular Biochemistry Review Panel
University wide AIDS Research Program, The Molecular Biology and Pathogenesis of HIV Study Section June 23--June 24
Faculty Presentations
Viral Entry--Membrane Fusion, Disulfides, Ebola and Gene Therapy, Goldyne Savad Institute of Gene Therapy, Hadassah University Hospital, Jerusalem, Israel, December 9, 2003.
Viral Entry--Membrane Fusion, Disulfides, Ebola and Gene Therapy , Department of Molecular Genetics, The Weizmann Institute of Science, Rehovot , Israel, December 9, 2003.
Novel pseudotyped retroviral and lentiviral vectors, Israel Society for Gene Therapy Meeting, Jerusalem, Israel, December 21, 2004.
Gene therapy and Ebola virus, Honors Seminar, Alabama State University, Montgomery, Alabama, February 24, 2004.
Viral entry--membrane fusion, disulfides, ebola and gene therapy. Cincinnati, Childrens Hospital Medical Center, Division of Hematology/Oncology Clinical Management Research Support Core, Cincinnati, Ohio, March 29-30, 2004.
2005 FEBS-IUBMB Congress in Budapest, Hungary. July2-July 7. Small GTPases session.
Evolution of bacterial phosphotransferases, University of Calgary, March 21, 2005.
Conferences
International Symposium on Bio-inspired Engineering 2003, Haifa, Israel
17th International Conference of Antiviral Research, Tucson, Arizona, May 2-6, 2004.
Professional Faculty Research
(Molecular virology) Entry of retroviruses and other enveloped viruses into cells; mechanism of enzymatic phosphoryl transfer.