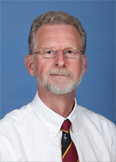 DAVID EICHINGER
40% Biology, 60% Curriculum & Instruction
Associate Professor
WTHR 221B
Phone: 765-494-0711

As a faculty member with joint appointments in the Department of Biological Sciences and the School of Education, I am engaged in preparing the next generation of teachers. Each year I teach BIOL 205 & 206, Biology for Elementary School Teachers. With an enrollment of approximately 300 students each semester, these classes teach important biology concepts that future elementary teachers will address in their own classrooms. Students learn biology in a hands-on way with one hour per week of lecture and four hours per week of laboratory activities. I also work closely with students in the Biology Teaching Program, which prepares biology majors to become high school teachers. Each fall semester I teach a methods course designed specifically for biology education majors. The course provides an integrated study of the theoretical and practical aspects of teaching high school biology, and is followed by a ten-week student teaching experience under the guidance of an experienced biology teacher. My research interests include science teacher preparation and collaborative learning and its role in science education. I am interested in studying how students and teachers collaborate in problem solving contexts and how their knowledge of science and their social dynamics influence science teaching and learning.
Education
Ph.D., Michigan State, 1992
Professional Faculty Research
(Science education) Professional preparation and development of both elementary and secondary teachers; collaborative problem solving and its role in the teaching and learning of science; the nature of science in science education and its importance for both teachers and students.