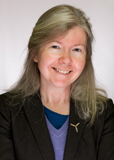 MAUREEN MCCANN
Professor, Director of the Energy Center, Discovery Park
HANS 301A
Phone: 765-496-1779



We recognize the 40 or so different plant cell types by their characteristic shapes and sizes. However, without its cell wall, the naked protoplast is spherical and is not capable of dividing, growing, or becoming specialized for function. Molecules of the cell wall provide mechanical strength, regulate porosity, and control cell-cell adhesion. The functions of the wall are not only mechanical but also biological. Like the animal extracellular matrix, plant cell walls are a source of signaling molecules that elicit a range of cell behaviors, committing the cell to particular developmental programs. The goal of our research is to understand how the molecular machinery of the plant cell wall contributes to cell growth and specialization, and thus to the final stature and form of plants.

The cell wall is a highly organized composite of many different polysaccharides, proteins, and aromatic substances. However, it has been difficult to ascribe specific functions to these molecules. Using Arabidopsis, we hope to define the relationship between genetically-defined changes in plant cell wall-related proteins (biosynthetic, hydrolytic, and structural) and cell wall molecular architecture and structural properties. We are particularly interested in the functions of pectic polysaccharides, some of the most complex biomolecules in nature, in regulating cell expansion.One of the most remarkable examples of cellular differentiation in plants is the construction of tracheary elements, that form a series of connected tubes to transport water and dissolved minerals from the roots to all parts of the plant. These cells are functional corpses, built of highly specialized cell walls. The zinnia mesophyll cell system is a remarkable model system in which we can induce photosynthetic cells harvested from leaves to change cell fate and become tracheary elements in liquid culture. The formation of tracheary elements involves several processes fundamental to plant development, including cell division, signal transduction, cell wall synthesis and deposition, lignification and programmed cell death. Using the zinnia system, we have identified over 600 genes that are involved in tracheary element formation. We are studying the roles of some of these genes in determining cell fate, in coordinating cell proliferation and differentiation, and in building the thick hoops of secondary wall material that are characteristic of tracheary elements, using both zinnia, the engine for gene discovery, and Arabidopsis, the model genetic system.
Education
Ph.D., University of East Anglia, 1990
Awards
Purdue's Seeds of Success Award (2005)
Purdue College of Science Leadership Award (2008)
Other Activities
NSF Cell Wall Genomics REU Symposium, Gainesville, July 22, 2004.
National Science Foundation Plant Genome Awardee Meeting, Washington, DC, September 23-25, 2004.

Grant Review/Panel Member
NSF
USDA
NSF-Cellular Organization panel member, 2004 - present
DOE - Committee of Visitors, Energy Biosciences, April 5-8, 2005
EPOBIO Advisory Board Member, a European consortium on useful products from plants, 2006 - present
11th International Cell Wall Meeting in Copenhagen, Scientific Advisory Board Member, 2007
Stanford University Global Climate and Energy Program, 2007
Editorial Board
Planta, 2000-2007
Global Change Biology - Bioenergy, Monitoring Editor, 2008 - present
Plant Physiology, Monitoring Editor, 2008 - present
Invited Faculty Presentations, Conferences and Seminars
The plant extracellular matrix, Oklahoma State University, Stillwater, Oklahoma, April 1-3, 2004.
The plant extracellular matrix Pennsylvania State University Research Symposium, State College, Pennsylvania, May 21-22, 2004.
High through-put identification and spectrotyping of cell wall phenotypes in mutants of Arabidopsis thaliana using Fourier transform infrared spectroscopy, 10th International Cell Wall Meeting, Sorrento, Italy, August 29-September 3, 2004.
The plant extracellular matrix, Annual Retreat Symposium, University of Georgia Plant Center, Atlanta, Georgia, October 27-30, 2004.
The plant extracellular matrix, Department of Biochemistry, Kansas State University, Kansas, November 2-4, 2004.
American Society for Plant Biology meeting in Orlando, Florida, July 22-28, 2004.
Illinois Microscopical Society, Chicago, Illinois, 2005.
American Society for Plant Biology, Seattle, Washington, 2005.
Cell Wall Biosynthesis Meeting, Asilomar, California, 2005.
DOE - Plant Research Laboratory, Michigan State University, 2005.
USDA-ARS Laboratory, UC-Berkeley, Albany, 2005.
EPOBIO Workshop, Products from Plants, Wageningen, The Netherlands, 2006.
Gordon Research Conference - Plant Cell Walls, New Hampshire, 2006.
International Society for Plant Molecular Biolgy, Adelaide, Australia, 2006.
Carnegie Institution, Stanford University, 2006.
Brookhaven National Laboratory, 2006.
University of Illinois, Urbana-Champaign, 2006.
University of Lausanne, Switzerland, 2006.
University of California-Davis, 2006.
Ohio State University, 2006.
Professional Faculty Research
(Plant cell and molecular biology; genomics) Plant extracellular matrix and cell differentiation