STEPHANIE GARDNER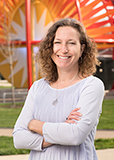 Assistant Professor
Lilly 2-226
496-2936
Research interests
Biology Learning Research
Research in my group focuses within the context of engaging undergraduate students in the process of science, critical thinking, and using visualizations to understand and communicate data and concepts. Within this area I am currently working on four projects: 1) Evaluating the long-term impact that research-based introductory biology lab experiences have on student persistence in Biology and other STEM (Science Technology Engineering and Math) majors, performance in coursework, interest in research, career choices, and views on the nature of science 2) Understanding student and expert reasoning when creating graphical representations of biological data, 3) Investigating the effectiveness of explicit instruction of argumentation pattern on the development of student writing about their data and 4) Investigating the spatial reasoning used by undergraduate biology majors and their ability to think across different levels of organization when learning content and conducting research in biology.
Neuroanatomy of the central auditory pathways in aging
I work in collaboration with Dr. Ed Bartlett to investigate age-related changes in auditory brain regions in a rat model of aging. We use immunohistochemistry, immunofluorescence, and standard histochemical techniques to examine correlations between changes in the organization of auditory brain regions at the cellular and protein levels and documented deficits in hearing.
Teaching
I teach undergraduate lecture and laboratory courses in Physiology and Neurobiology in the Department of Biological Sciences. In addition, I teach authentic research-based introductory biology laboratory courses. In the courses, we partner with research faculty to identify research questions that can be investigated by the students as part of their normal introductory biology laboratory experience.
A common thread in all of my laboratory courses is active student engagement in the activities by allowing them to design and execute their own experiments and present their results to the class and the department. I am interested in assisting students gain the necessary scientific reasoning and practical skills to think like scientists. I am particularly interested in evaluating student ability to logically dissect a problem, design experiments to test hypotheses, and be able to interpret and present their data. Data gathered from these assessments can inform future course content and approaches to learning in my courses as well as provide new instructional approaches to be used elsewhere.
I am an active member of the Purdue International Biology Education Research Group (PIBERG).