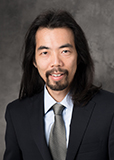 YUK FAI LEUNG
Assistant Professor
LILY 2-236
Phone: 765-496-3153


Disease-causing gene network and novel therapies for retinal degeneration
Retinal degeneration is a group of incurable eye diseases including retinitis pigmentosa and age-related macular degeneration that affects our vision. Much has been learned about the molecular basis of these diseases, but the number of treatments for improving the deteriorated vision is still scarce. To this end, our group at Purdue University studies zebrafish models of human retinal degeneration to expedite discovery of novel treatments. Zebrafish has a number of advantages that are particularly suitable for eye disease research. For example, it is a vertebrate model that has a good color vision, rapid embryonic development and large clutch size. Together with a much cheaper maintenance cost compared with other established animal models, zebrafish has a unique competitive edge to be a sustainable research model in the years to come.
The research interests of our lab are currently focused in two directions:
1. Disease-causing gene network for retinal degeneration
2. Rapid drug discovery for retinal degeneration
Please visit our lab website for further information.
Present appointments
May 2013 – present Affiliate Faculty Member, Purdue Center for Drug Discovery, West Lafayette, IN, USA
March 2012 - present Visiting Professor, Shantou University Medical College, Shantou, China
March 2012 - present Scientific Advisor to Post-graduate Research, Joint Shantou International Eye Center of Shantou University and The Chinese University of Hong Kong, Shantou, China
May 2011 – present Adjunct Assistant Professor of Biochemistry and Molecular Biology, Indiana University School of Medicine – Lafayette, West Lafayette, IN, USA
2010 – present Affiliate Faculty Member, Purdue Oncological Sciences Center, West Lafayette, IN, USA
Jan 2008 – present Assistant Professor, Department of Biological Sciences, Purdue University, West Lafayette, IN, USA
Education
Ph.D., Chinese University of Hong Kong, Hong Kong, 2002
M.Phil., Hong Kong University of Science and Technology, Hong Kong, 1998
B.Sc., Hong Kong University of Science and Technology, Hong Kong 1996
Awards
International Travel Grant Award, Purdue Research Foundation 2011
Hope for Vision Award 2009-2010
Showalter Research Trust Award 2009-2010, 2010-2011
Other Activities
External reviewer for the following research grant:
2011 Bank of America Jeffress Research Grant, Thomas F. and Kate Miller Jeffress Memorial Trust, USA
2009 Research Grant, Medical Research Council, United Kingdom
2007 University Research Fund, Research Council, University of Leuven, Belgium
Professional service - Editor:
2012 – present Scientist Advisory Board Member, The National High School Journal of Science
2012 – present Editorial Board Member, PLOS ONE
Ad hoc reviewer for the following journals:

Bioinformatics, BMC Bioinformatics, BMC Developmental Biology, BMC Genomics, Briefings in Bioinformatics , Expert Opinion for Drug Discovery, G3: Genes, Genomes, Genetics, Gene Expression Patterns, Genetics, IEEE Transactions on Image Processing, International Journal of Developmental Neuroscience, Investigative Ophthalmology & Visual Science, Journal of Anatomy, Journal of VLSI Signal Processing, Journal of Real Time Imaging, Molecular Biotechnology, Molecular Vision, Neurobiology of Disease, Physiological Genomics, PLOS Genetics, PLOS ONE, Thrombosis Research.
Invited Lectures:
2013-03-13 "Studying traditional Chinese medicine for good vision with zebrafish", Ho Yu College, Hong Kong
2013-03-11 "The potential effect of Sch B on good vision in zebrafish", 2013 Symposium on Biology of Ophthalmology, Hong Kong Eye Hospital, Hong Kong
2013-02-08 "Drug Screening to Treat Early-Onset Eye Diseases: Can Zebrafish Expedite the Discovery?", Department of Biology, IUPUI, IN
2012-12-18 "Schisandrin B improves the visual motor response and preserves photoreceptors in a zebrafish cone dystrophy mutant", CUHK Ophthalmology Forum 2012 cum HKEH 20th Anniversary Symposium, Hong Kong Eye Hospital, Hong Kong
2012-12-14 "Schisandrin B improves the visual motor response and preserves photoreceptors in a zebrafish cone dystrophy mutant", The 8th International Symposium of Ophthalmology, Hong Kong
2012-08-10 "Disease-causing gene network and novel therapies for retinal degeneration", Department of Anatomy and Eye Institute, the University of Hong Kong, Hong Kong
2012-08-08 "Disease-causing gene network and novel therapies for retinal degeneration", Department of Ophthalmology and Visual Sciences, Chinese University of Hong Kong, Hong Kong
2012-08-02 "Disease-causing gene network and novel therapies for retinal degeneration", Joint Shantou International Eye Center of Shantou University and Chinese University of Hong Kong, Shantou, China
2012-07-28 "Disease-causing gene network and novel therapies for retinal degeneration", Eye Hospital, Wenzhou Medical College, Wenzhou, China
2012-05-07 "The Expression of Irx7 in The Inner Nuclear Layer Of Zebrafish Retina Is Essential For A Proper Retinal Development And Lamination" The ARVO Annual Meeting – Translational Research: Seeing the Possibilities, Association for Research in Vision and Ophthalmology, Fort Lauderdale, Florida, USA
2012-03-24 "Phenylthiourea specifically reduces zebrafish eye size". Beta Beta Beta Northeast District 4 Convention, Purdue University, West Lafayette, IN, USA
2012-02-06 "Elucidation of Disease-Causing Gene Network for Retinal Degeneration in Zebrafish", Basic Medical Sciences Seminar Series, College of Veterinary Medicine, Purdue University, West Lafayette, IN, USA
2011-12-20 "Elucidation of Disease-Causing Gene Network for Retinal Degeneration in Zebrafish", Eye Hospital, Wenzhou Medical College, Wenzhou, China
2011-12-19 "Frontiers in Developmental Biology", Eye Hospital, Wenzhou Medical College, Wenzhou, China
2011-12-12 "Elucidation of Disease-Causing Gene Network for Retinal Degeneration in Zebrafish", 2011 Symposium on Biology of Ophthalmology, Chinese University of Hong Kong, Hong Kong
2011-06-28 "Disease-Causing Gene Network in Zebrafish Retinal Degeneration Mutants", Joint Shantou International Eye Center of Shantou University and Chinese University of Hong Kong, Shantou, China
2011-06-28 "The Role of Phenylthiourea in Zebrafish Eye Development", Joint Shantou International Eye Center of Shantou University and Chinese University of Hong Kong, Shantou, China
2011-06-27 "Disease-Causing Gene Network in Zebrafish Retinal Degeneration Mutants", Department of Ophthalmology and Visual Sciences, Chinese University of Hong Kong, Hong Kong
2011-06-27 "The Role of Phenylthiourea in Zebrafish Eye Development", Department of Ophthalmology and Visual Sciences, Chinese University of Hong Kong, Hong Kong
2011-06-24 "Developmental Biology & Genomics II", OVSC 5580: Genetic Eye Disease, Department of Ophthalmology and Visual Sciences, Chinese University of Hong Kong, Hong Kong
2011-06-23 "Developmental Biology & Genomics I", OVSC 5580: Genetic Eye Disease, Department of Ophthalmology and Visual Sciences, Chinese University of Hong Kong, Hong Kong
2010-07-20 "Irx7 gene regulatory network for zebrafish eye development", XIX Biennial Meeting of the International Society for Eye Research, Montreal, Canada
2009-12-02 "Gene regulatory Network for Zebrafish Eye Development", Department of Medical and Molecular Genetics, Indiana University School of Medicine, Indianapolis, IN
2009-07-30 "Gene regulatory Network for Zebrafish Eye Development", Department of Ophthalmology and Visual Sciences, Chinese University of Hong Kong, Hong Kong
2008-11-18 "Genomic analysis of zebrafish eye development", Department of Cellular Biology and Anatomy, Medical College of Georgia, Augusta, GA, USA
2008-10-03 "Genomic analysis of zebrafish eye development", Indiana University School of Medicine Northwest, Gary, IN, USA
2008-07-28 "Genomic analysis of zebrafish eye development", Purdue University/University of Alabama-Birmingham NIH Botanicals Research Center, Purdue University, West Lafayette, IN, USA
2008-06-26 "Factorial microarray analysis of zebrafish retinal development", Eighth International Meeting on Zebrafish Development & Genetics, Madison, WI, USA
2008-06-11 "Genomic analysis of zebrafish eye development", Department of Ophthalmology, IUPUI, Indianapolis, IN, USA
2008-04-30 "Cellular expression of Brg1-regulated retinal differentiation genes in wild-type and mutant young retinas", The ARVO Annual Meeting - Eyes on innovation, Association for Research in Vision and Ophthalmology, Fort Lauderdale, Florida, USA
Teaching:

BIOL 366 - Principles of Developmental Biology
LCME 504 - Molecular Cell Biology
Educational and outreach activities:
2013-03-13 "Studying traditional Chinese medicine for good vision with zebrafish", Ho Yu College, Hong Kong
2012-08-07 Organizer and Lecturer, "Workshop on Immunohistochemistry and in situ hybridization", Department of Ophthalmology and Visual Sciences, Chinese University of Hong Kong, Hong Kong
2012-08-06 - 07 Organizer and Lecturer, "Journal clubs on human genetics and retinal development", Department of Ophthalmology and Visual Sciences, Chinese University of Hong Kong, Hong Kong
2012-08-03 Organizer and Lecturer, "Workshop on Immunohistochemistry and in situ hybridization", Joint Shantou International Eye Center of Shantou University and Chinese University of Hong Kong, Shantou, China
2011-12-14 - 15 Organizer and Lecturer, Frontiers in human genetics and eye research workshop, Department of Ophthalmology and Visual Sciences, Chinese University of Hong Kong, Hong Kong
2011-06 Guest Lecturer, OVSC 5580: Genetic Eye Disease, Department of Ophthalmology and Visual Sciences, Chinese University of Hong Kong, Hong Kong
2010 - Present Facilitator & Lecturer, USA Biology Olympiad (USABO) National Finals, Purdue University, West Lafayette, IN, USA