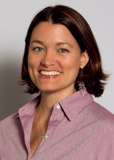 AIMEE EGGLER
Research Assistant Professor
HOCK 311
Phone: 765-496-3501



Regulation of Nrf2 transcription factor in the cytoprotective response

My primary research interest is the molecular mechanism of regulation of the Nrf2 transcription factor, a key protein in prevention of cancer and other chronic, degenerative diseases. In response to oxidative stress, Nrf2 upregulates over 600 genes that contain the antioxidant response element (ARE). The products of these genes have cytoprotective functions to combat reactive oxygen species, electrophiles and inflammation. Nrf2 can be activated by relatively non-toxic molecules, many from plant sources, and this represents a promising avenue of prevention of cancer and other diseases. Some examples of "ARE-inducers" from foods include sulforaphane from broccoli, curcumin from the spice turmeric, and xanthohumol from hops.

We are interested in how Nrf2 is activated by ARE inducers. Nrf2 is repressed by the Keap1 protein, which targets Nrf2 for ubiquitination by the Cul3 protein complex and subsequent degradation. In order to address questions about the molecular mechanism of how Nrf2 escapes Keap1 repression, we use biochemical techniques, including isothermal titration calorimetry and surface plasmon resonance, in combination with cell culture techniques such as an ARE-reporter assay, western blotting and immunocytochemistry.
Education
B.S. in Chemistry, University of California, Santa Cruz, 1996
Ph.D. in Biochemistry, University of Wisconsin-Madison, 2002
Professional Faculty Research
Awards
Invited Speaker (March 21, 2011)
Medical College of Wisconsin, Seminar
"Molecular Basis of Induction of Cytoprotective Enzymes by Nrf2 in Cancer Prevention"
RO3 Grant Principal Investigator (April 2008 start)
National Institutes of Health R03 CA128095
Invited Speaker (April 20, 2007)
University of Wisconsin-Madison, Pharmaceutical Sciences Seminar
"Unraveling the molecular mechanisms of the Keap1-Nrf2-ARE pathway in cancer prevention"
NIH Center for Botanical Dietary Supplements Research Pilot Project Principal Investigator (2007 start)
National Institutes of Health NCCAM 5 P50 AT000155
Invited Speaker (October 8, 2005)
The Midwest Enzyme Chemistry Conference, Loyola University, Chicago, IL
"A new molecular mechanism model in cancer prevention: modifying specific cysteines of the human Keap1 protein is insufficient to disrupt binding to Neh2"
Peterson/Wharton Predoctoral Fellowship (full support, 2001-2002)
Department of Biochemistry, University of Wisconsin-Madison
Molecular Biosciences Training Grant Fellowship (full support, 1998-2001)
University of Wisconsin-Madison
Frank and Dorothy Strong Scholarship (1998)
Department of Biochemistry, University of Wisconsin-Madison
Doug Drexler Chemistry Scholarship (1996)
The University of California, Santa Cruz
University of California Regents Scholar (1992-1996)
The University of California, Santa Cruz