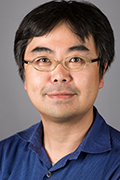 DAISUKE KIHARA
Associate Professor
HOCK 229
Phone: 765-496-2284



Our research area is bioinformatics; bioinformatics is beginning to have a large impact on the field of biology now that more and more structure, sequence, gene expression data, and pathway data have become available in the past decade. These large data enable us to employ comprehensive analysis of protein sequences/structures, genomes, and pathways. Our enthusiasm for scientific research comes from a desire to have a global view of protein folding; the relationship between protein function, sequence, and structure; and evolution of protein families, pathways, and organisms. Now complete genome sequences of more than 210 organisms are available in public databases. Using these genome data, we can directly investigate evolution of organisms/protein families, gene transfer, or mechanism of coding principle of pathways in a genome. Linking protein tertiary structure information which comes from both experimental data and prediction will add another important aspect in our understanding. Therefore, in practical terms our main research interest is to develop computational methods to predict and analyze protein structure/function, pathway structure and their applications in genome-scale, or pathway/network scale.
Education
Ph.D., Kyoto University (Japan)
Other Activities
Faculty Presentations, 2006-2008:
Low-resolution and uncertainty in protein structure and function prediction, Protein Folding and Functional Motion Symposium, Institute for Protein Research, Osaka, Japan, September 28 "29, 2006.
Predicting protein function from sequence and structure, Center for Computational Biology & Bioinformatics Seminar Series, Indiana University School of Medicine, Indianapolis, Indiana, October 6, 2006.
Enhanced protein function prediction for proteomics analysis, 2006 Biomedical Engineering Society Annual Fall Meeting, Chicago, Illinois, October 12-14, 2006. He also served as session chair of the Systems Biology & Bioinformatics - Computational Techniques for Genomic, Proteomic, Structural, and Pathway Data.
Advanced techniques for protein function prediction and protein tertiary structure search for proteomics analyses, Ajinomoto Life Science Institute, Kawasaki, Japan, December 22, 2006.
Bioinformatics: Introduction and advanced topics", Kansai Medical University, Osaka, Japan, December 25, 2006.
Advanced techniques for protein function prediction and protein tertiary structure search for proteomics analyses, Nara Advanced Institute of Science and Technology, Nara, Japan, December 28, 2006.
Protein function and structure prediction for proteomic analyses, Informatics Department, Indiana University, Bloomington, Indiana, May 3, 2007.
Surface shape based protein structure classification and search and chaired the session, Computational Techniques for Structural Genomics at the 39th Conference on Interface of Statistics and Computing Science, Philadelphia, Pennsylvania, May 24-26, 2007.
Meetings, 2006-2008:
PI and Co-PI Meeting, E.coli-Hub, SRI, San Francisco, California, August 15-16, 2006.
E.coli-Hub NIH Steering Committee Meeting, Bethesda, Maryland, September 12, 2006.
PI and Co-PI Meeting, E.coli-Hub, Palo Alto, California, April 24-26, 2007.
Conferences (Poster Presentations), 2006-2008:
Automated Function Prediction Conference, University of California, San Diego, California, August 30 - September 1, 2006. Poster presentation: PFP: sequence-based annotation of sequences and local sequence motifs with contextual GO term association (co-authored by T. Hawkins, S. Luban & D. Kihara).
7th Community Wide Experiment on the Critical Assessment of Techniques for Protein Structure Prediction Conference (CASP7), Asilomar Conference Center, Pacific Grove, California, November 26-30, 2006. Invited in a round table discussion on function prediction. Poster presentation: "Partially automated, comprehensive annotation with PFP" (co-authored by T. Hawkins, D. La, S. Luban and D. Kihara).
Indy ™07: Indy Regional Bioinformatics conference, May 31 " June 2, 2007. "Estimating quality of template-based protein models by alignment stability" selected talk by H. Chen and D. Kihara. Poster presentations: "Function prediction for proteomics datasets using PFP" (T. Hawkins, M. Chitale, S. Luban, & D. Kihara); "Development of methods for missing enzyme/gene prediction with PFP" (M. Chitale, T. Hawkins & D. Kihara,); "A fast methodology for high throughput comparison of tertiary structure and physicochemical properties" (S. Lee, D. La, B. Li, R. Rustamov, D. Kihara); "Local geometry characterization of protein surfaces with the visibility criteria" (B. Li, S. Turuvekere, M. Agrawal, K. Ramani & D. Kihara); "EcoliPredict: structure modeling of E. coli proteome" (P. Spratt, S. Krawczyk, Y.D. Yang & D. Kihara); "Threading without training weighting factors for scoring functions" (Y.D. Yang & D. Kihara); "Using sequence similarity scores for automatic gene function annotation in the biomedical literature" (L. Si, D. Yu, D. Kihara & Y. Fang).
Protein Society Meeting, Boston, Massachusetts, June 21-24, 2007. Poster presentations: Protein surface representation for fast comparison of tertiary structure and physiochemical properties (co-authored by S. Lee, B. Li, R. Rustamov, and D. Kihara) and High-throughput assignment for proteomics datasets with PFP (co-authored by T. Hawkins, M. Chitale, and D. Kihara).
Professional Faculty Research
(Bioinformatics, computational biology) protein tertiary structure prediction/comparison, protein sequence analysis, evolution of protein families, metabolic/regulatory pathway analysis.