NANCY PELAEZ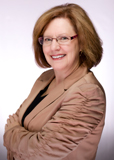 Associate Professor
LILY G-224
496-3261
Nancy Pelaez received a B.S. in Biology summa cum laude from Newcomb College of Tulane University in New Orleans, a k-12 California single subject teaching credential in both Life Science and Physical Science from Mills College in Oakland, CA, and, with support from a Howard Hughes Medical Institute Fellowship, a Ph.D. in Physiology and Biophysics with a research focus on vascular muscle physiology from Indiana University School of Medicine.
Pelaez, who founded the Purdue International Biology Education Research Group (PIBERG), is currently a member of the Fulbright Roster of Scholars to consult on biology education research projects overseas. PIBERG research in Biology Education at Purdue has a strong international focus because we have hosted Visiting Scholars from Turkey, South Africa, Australia, Colombia, and Brazil. Current projects address two focus areas (1) student reasoning about biological experiments and how they apply quantitative reasoning to experimental design, and (2) student reasoning about phylogenetic trees as well as the nature and source of tree thinking ideas that are prone to be misunderstood in different countries.
Any student who is considering a career that involves teaching is invited to conduct a research rotation linked to the experimental reasoning or the evolutionary tree-thinking projects. Problematic patterns in students' thinking are being used to develop systematic approaches to teaching more effectively. In collaboration with discipline-based science educators in other colleges and departments at Purdue, we are identifying and testing models for factors and strategies to promote the implementation of educational research findings and curriculum improvement.
Students may also work with Pelaez to conduct physiology research projects directed at determining how contraction of smooth muscle is regulated. For instance, vasoconstriction occurs in response to lung hypoxia in both in vivo and in vitro vertebrate animal models. The mechanism for hypoxic pulmonary vasoconstriction remains unknown. Using calcium imaging of isolated vascular muscle and other techniques, we are working at the interface between evolution and physiology to decipher the mechanisms that regulate vascular response to hypoxia. For example, Lumbriculus variegatus, a freshwater worm found in oxygen poor but organic rich sediments, has prolonged dorsal blood vessel contractions when exposed to hypoxic conditions. In Lumbriculus, the vascular response to hypoxia shifts blood to the tail, a main site of gas exchange. Various research projects are focused on understanding mechanisms of smooth muscle function such as hypoxic pulmonary vasoconstriction in Mammals, mechanisms for vasoconstriction functions that have enabled invertebrate animals to survive environments with oxygen extremes, and hormonal modification of uterine contractility.