DENNIS MINCHELLA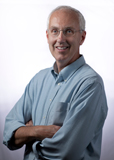 Associate Dean for Undergraduate Education, College of Science
LILY 1-122
494-8188
Drawing upon both molecular and experimental field approaches, research in my laboratory focuses on the population biology, evolution, and genetics of host-parasite interactions. The research program encompasses both host-parasite coevolution and the genetic structure of parasite populations.
Variation in host-life history patterns may be a result of a parasite adaptation, a host adaptation or a non-adaptive side effect of the interaction. Genetic heterogeneity of hosts and parasites fuels the coevolutionary arms race leading to an array of varied outcomes. Using snail-trematode systems as models, we have demonstrated that hosts potentially modify the outcome of parasitic infection either by resisting infection (immunity) or varying other life-history parameters. Combinations of field observation and laboratory experimentation are utilized to better understand the interaction between host-parasite coevolution and variations in host-life-history.
Interactions between trematodes and their snail hosts influence parasite genetic systems and impact on disease epidemiology in humans. Microsatellite DNA sequences are used to quantify host and parasite genetic heterogeneity in natural populations across space and through time. Currently, we are combining mathematical models and empirical field studies to assess and predict the genetic population structure of human schistosomes. Results will yield evolutionary insights into the epidemiological process, help identify genetic consequences of control strategies, and complement concurrent immuno-epidemiology studies of humans in endemic Brazilian communities.